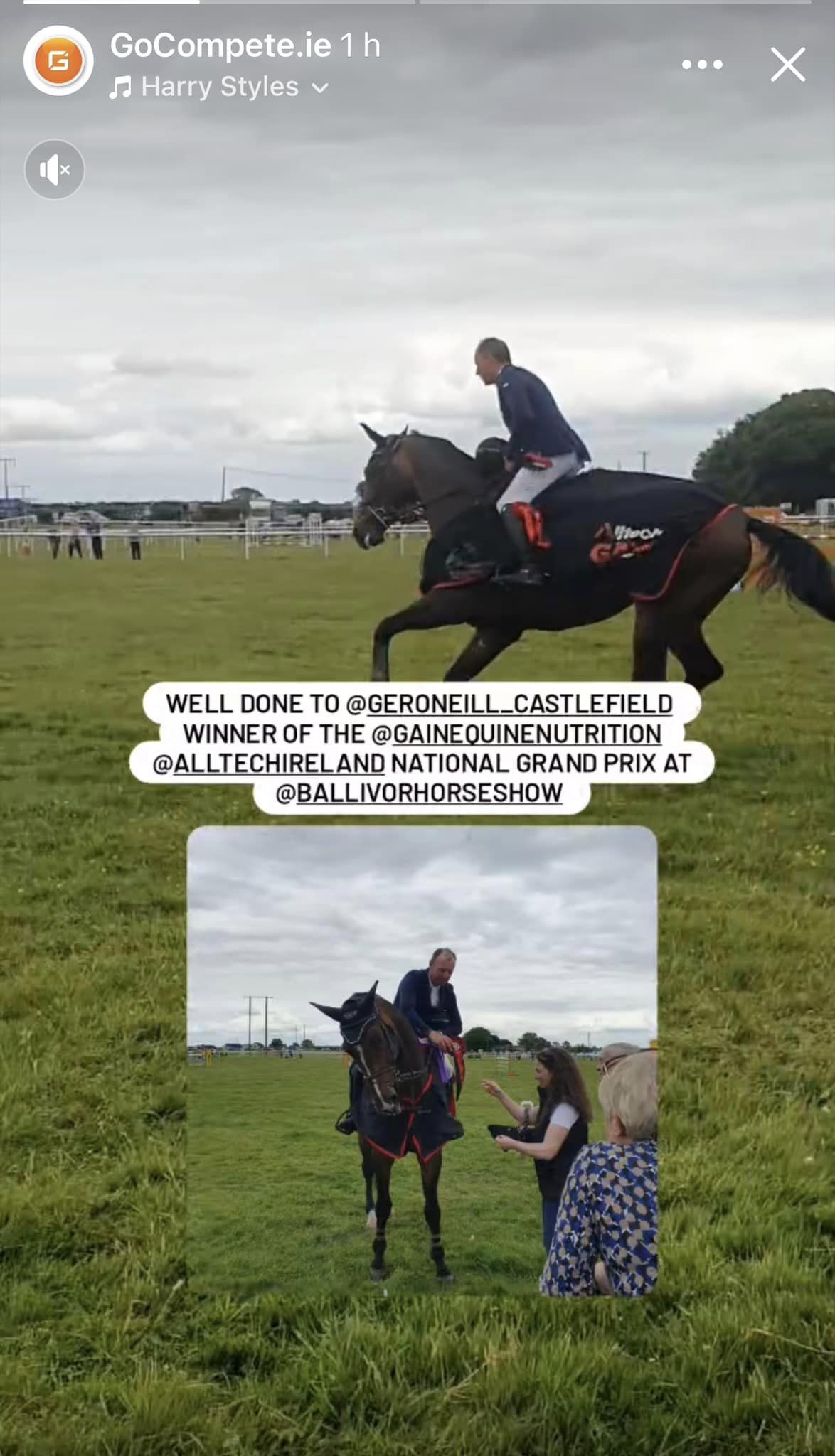 11 Jun

Victory for Kilkenny's Ger O' Neill in Ballivor

Kilkenny's Ger O' Neill put his first win on the board in the 2023 GAIN Alltech Grand Prix Series today in Ballivor. Riding Mr Castlefield he took home the winner's share of the €4,000 in the Gael Form sponsored class. One of six double clears, O' Neill clocked the winning time of 38.27 seconds. O' Neill had been in the ribbons earlier in the day as he claimed the runner-up spot in the Castlerickard Farm sponsored 1.20m Mervue Equine Summer Tour with the five-year-old Ballyshan B F Super Hero.

Owned by Castlefield Breeding Farm,and bred by Zemsky Hrebcinec, Mr. Castlefield is a nine year-old gelding by Heartbreak ZH and out of the Faust Z sired dam, Sofa. This is the second win for this combination of late, having claimed victory in the two phase in Mullingar CSI2* last week.

In total 24 went to post and from those 13 booked their place in the jump-off after answering all the questions on the James Tarrant designed course. In what was a very exciting jump-off, the top four combinations came home within the 39 second marker

Local Meath rider Gerard Clarke and Lupins Lux Z put in a gallant attempt, but was fractions behind when clocking 38.32 for second. Owned and bred by Patrick and Clare Sutton, the 13-year-old (ISH) gelding is by Lux Z and is out of the Cruising sired dam, Thornfield Lupin.

Winner of the round in Portmore, Dermott Lennon put more points on the board as he took third place with Anthem In My Heart, when he came home clear in 38.41.It was a good day for Lennon as he also took the runner-up spot in the Farrell's sponsored 1.35m Mervue Equine Leinster Summer Tour with Millview Cicero and fourth in the 1.20m with Kinmar Right on Time.

Anthem In my Heart is a nine-year-old Irish Sport Horse gelding. The combination have only recently returned from Europe from a successful tour in Vejer de la Frontera CSI4*. Their good results include second and third place in a 1.40m two phase and fourth in a 1.45m Table A.

Defending champions Jonathan Smyth accounted for the next two placings. Smyth delivered his best result with Mulvin Lui, when crossing the line in 38.70 for eventual fourth.

Not content with fourth, he slotted into fifth place with Crystal Graf when he kept all the poles in their cups in a time of 39.78. This combination have demonstrated great form this year, taking seventh place in the Balmoral 1.45m CSI2* Grand Prix in May. Owned by Noletta Smyth and Roy Craig the 13-year-old gelding is by Luidam and out of the Baron De Chantepie sired dam, Castlconnor Baron.

Ger O' Neill returned to take another share of the prize fund as he took sixth place with the eight-year-old, Tullogher Lady Liberty, when they were last of the double clears in 40.94. Owned by Ciara Walsh, the mare is by Indoctro and is out of the Indorado sired dam, Dalivia VDL.