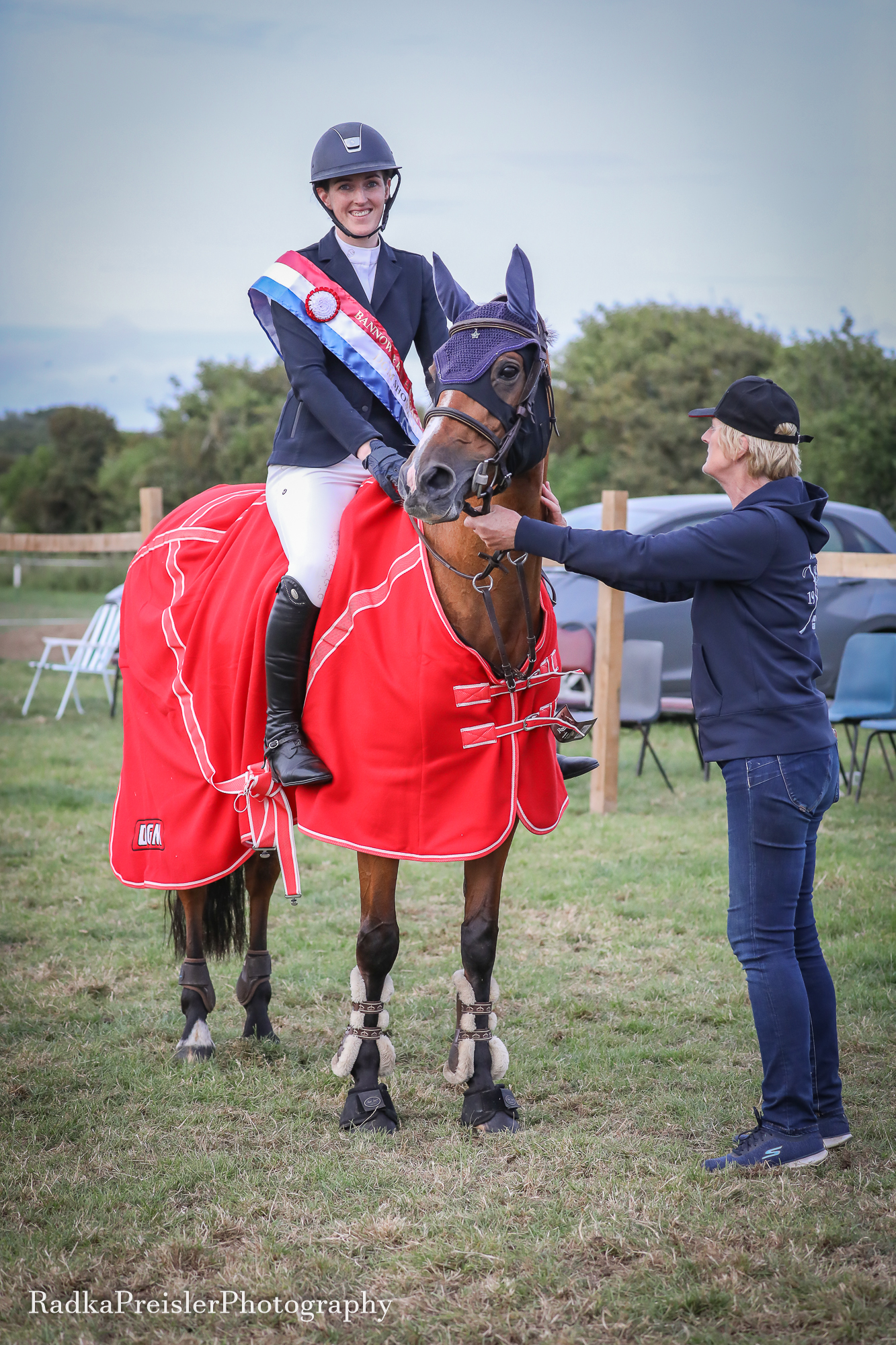 19 Jul

Local victory in Bannow & Rathangan

1.35m

In Bannow and Rathangan the win was a local one, with Taylor Peare claiming the honours in the Mervue 1.35m, which was sponsored by Trinity Motors and Arctic Tack Stud. Riding Pat Peare's Lissyegan Geoffrey, the young rider recorded the winning round of clear in 45.17. The 13-year-old gelding is by Hermes De Reve has proved consistent in this league under the command of Peare, claiming .

Placed fifth in the round at Adamstown, David Lawler took the runner-up spot with Jm Penelope, when they were fractions behind in a time of 45.26.

A clear from Brendan Murphy with Langara Ventures`s Emily May in a time of 46.13 saw him take third.

Wexford rider Michelle Kenny and Mohill Rosetta slotted into fourth place, when she kept all the poles in place in a time of 47.87.

Paddy O'Donnell started his day on a good note claiming fifth with his own Lord Latino, when he came home with nothing to add in 48.15. Jackilynn Breslin completed the top six, when she delivered a safe clear with her own Calle Cool in a time of 53.32.

1.20m

Amateur rider Marie Hartley (AA) certainly has proved to be one to watch in this series and she once again added to her record sheet as she took the win in the Su's Coffee sponsored 1.20m. Riding her own Scarthill Vendi she delivered the winning round of clear in 32.60. This 12-year-old mare is by Ars Vivendi and out of Rosslodge Pearl. This combination has certainly been on form, taking the win in the round in Adamstown in the 1.10m and second in the second in the 1.20m a the round in Inistioge. They also took placings in the round at Jag and Ballivor, putting them at the upper end of the leaderboard.

Nicola Fitzgibbon partnered the Langara Ventures`s owned Hard To Beat into second place, when clear in 33.25. Slotting into third was Gemma Phelan after she delivered a clear with Maryjo Browne`s Killinick Miss Ellie in 41.67. Lisa Murphy wasted no time with her own Priestown Flory and answered all the questions in 42.93 for eventual fourth place. Fifth place belonged to Michael Doyle and his own Carrick Again Julie, clear in 43.31, while in sixth was Alex Donohoe aboard the Pierce Doyle owned Kilcoltrim Krishna, clear in 44.07.

1.10m

Not content with the win in the 1.0m division, Marie Hartley also led the victory lap in the DGM 1.10M division. This time riding her own Nikita Van Het Heidenhof she took the red rosette when clear in 29.83. This ten-year-old mare is by Cumthago C and out of Clever Lady VD Paardehoeve. Emma O' Connor wasted no time as she partnered Quality Diamond to a clear in 31.60. Jess Widger`s clear round in 32.28 aboard her own Grantstown Spirit saw her take third place. Hartley returned to take fourth place with Scarthill Vendi, when she put in another foot perfect performance in a time of 32.36. Similarly Nicola Fitzgibbon returned to the line-up, claiming fifth with Langara Ventures`s Hard To Beat, when she came home clear in 32.43 . Completing the top six was Martin Fenelon and the Patrick Doyle owned Longhill Cruising, when clear in 32.50.