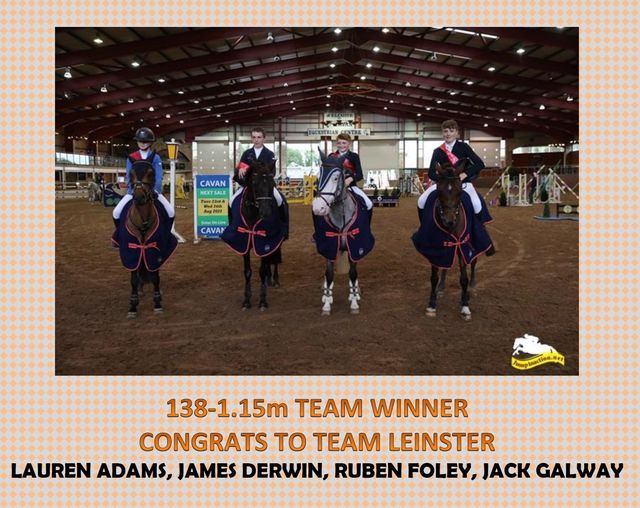 11 Jul

Leinster riders shine in Cavan Home Pony International

Last week was a great week for Leinster Pony riders in Cavan Home Pony International with many results being delivered over the course of the four day show.

In the the 128cm-85cm Under 10 on Sunday, Leinster rider DJ Kent who came home clear in a time of 38.72 aboard Paris for eventual fourth place. In the Belmont House Hotel sponsored 128cm- 1.05 Grand Prix, Robbie Sheehan and Hes A Touch of Magic put in a gallant attempt, but despite their best efforts a clear in 36.34 saw them take the runner-up spot. James Cleary and Little Paddy Brown had one time fault in the first round in a time of 77.83 for sixth place.

The myshowadvisor sponsored 138cm-1.15m Grand Prix saw 30 combinations go to post and from those four double clears were delivered. Taking the win was James Brown and Ruby Brown, when they galloped home in a time of 35.37. Taking the more cautious approach paid off for Lauren Adams as she took the runner-up place with D Drim' De Brixia (PFS), when she clocked 39.66. Ruben Foley took fourth place with Sparkling Boomastasia when clear in 46.60. He had an unfortunate four faults with Mayfly Green Peter in a very fast time of 35.81 for fifth. Claudia Carroll also had one on the ground with Tynagh Sunshine, but in a slower time of 40.95 for sixth place.

The 148cmBallywalter Farms sponsored 1.25m Grand Prix, Wexford rider Lauren Adams and Lexius "E" Van Het Juxschot were back in the line-up, claiming the runner-up place, when clear in 39.32. Fellow Leinster rider, Anna White and Red Star Optimus slotted into third place, when they came home in a time of 40.32. Last of the double clears was Leinster rider Kiera McGrath and Lough Key Camouflage, in a time of 48.89 for fifth place.

In the final 148cm 1.15m class sponsored by Absolute Jewellery, Lauren Adams and Quintaira D Z clear round in 26.54 saw her take second place.

Claiming the 138cm 1.15m was the Leinster team of Lauren Adams, James Derwin, Ruben Foley and Jack Galway.

Leinster rider, Joe Cadam shared the win in the 148cm 95 when he delivered a clear with OOna Phantom in a time of 27.31. Lucy Rhatigan and Kilminchy Feisty took fourth place, ahead of fellow Leinster rider, Lucy Kelly and Clonagoose Daniel Dubh. Juliana Duffy completed the top six with Rosies Ralph, when clear in 30.08.

In the 148cm 1.05m Cian Byrne and Carra Cave Boy took third place, when clear in 28.43.

Winner of the 138cm 1m was Noah Murphy and Riverdale Goliath after they came home clear in 23.32. Filling the runner-up place was fellow Leinster rider Bonnie Loughrey and Keoghans Boy, clear in 25.31. Further down the line in fourth place was Jack Hannigan and Cavalot Silver Dollar, clear in 29.23.

In the 128cm 90cm Alexandria McMahon secured third place when she delivered a clear with Holly's Roman in a time of 27.58 for third place. In sixth place was Max Galway and Garnagree Chilli, after they had one down in a time of 25.69.