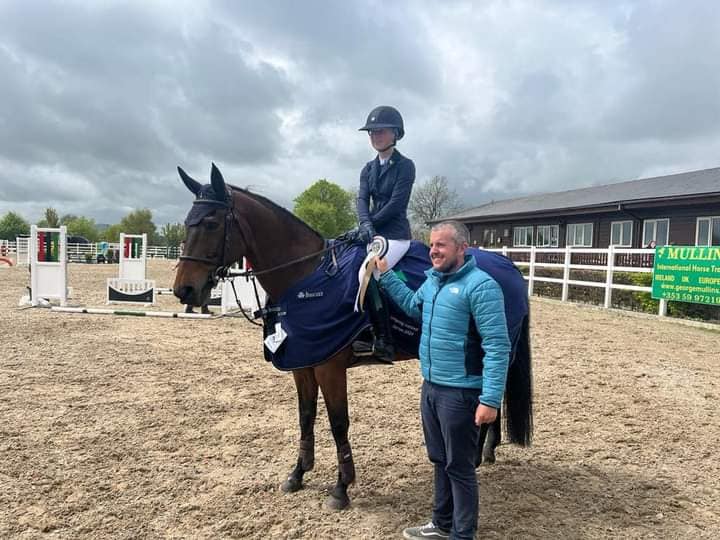 09 May

Leinster riders dominate the SJI Summer Series in Barnadown

Leinster riders dominated the SJI Summer Series in Barnadown last Saturday. Cathal Daniels as he took the win in the 1.30m section aboard EMS Adelaide when he delivered a clear in 36.41. Aoife Dooley and Cavalier Teaca took the runner-up spot, when they came home clear in 37.64. Slotting into third was Eddie Moloney and Ardkyle B when clear in 43.97.

Taking the win in the 1.10m was Children on Horses rider Brona Keane when she came home with nothing to add aboard Quality Diamond in a time of 34.93. Amateur rider Lisa Doyle took second with Corland's Clippler when clear in 35.86, while in third was another Children on horses rider, Henry Sinnott, and Lassban Safirah, clear in 37.35.

Leading the victory lap in the 1.20m was junior rider Taylor Peare and Lissyegan Geoffrey when they galloped home with nothing to add in 29.21. There was little between the placings as young rider Trudie Hermione McCoosh (YR) came home clear aboard TMSH Quality Assured (7 YO) in a time of 29.48. A clear from Alyssa O'Neill and Danos Lola in 30.23 saw her take third place.

In the 90cm, 46 combinations went to post and from those, five double clears were delivered. Fastest of those was amateur rider Elaine Howard and BMK Newtimes Legacy in a time of 36 seconds. Fellow amateur Wexford rider Carol Ann O' Neill and Ralfstar took second when they clocked 40.88, ahead of junior rider Sophie Wilson and Larina Cruise, in 44.77.

In the 1m division 75 combinations battled it out and taking the win when clear in 34.42 was junior rider Anna Morrissey and Royale Mardi Gras. Taking the runner-up place was junior rider Faye Delaney (JU) and Rossdarragh Flash, ahead of Children on Horses rider, Ciara Ryan and Chica of The rocky Mounten Z, clear in 40.98.