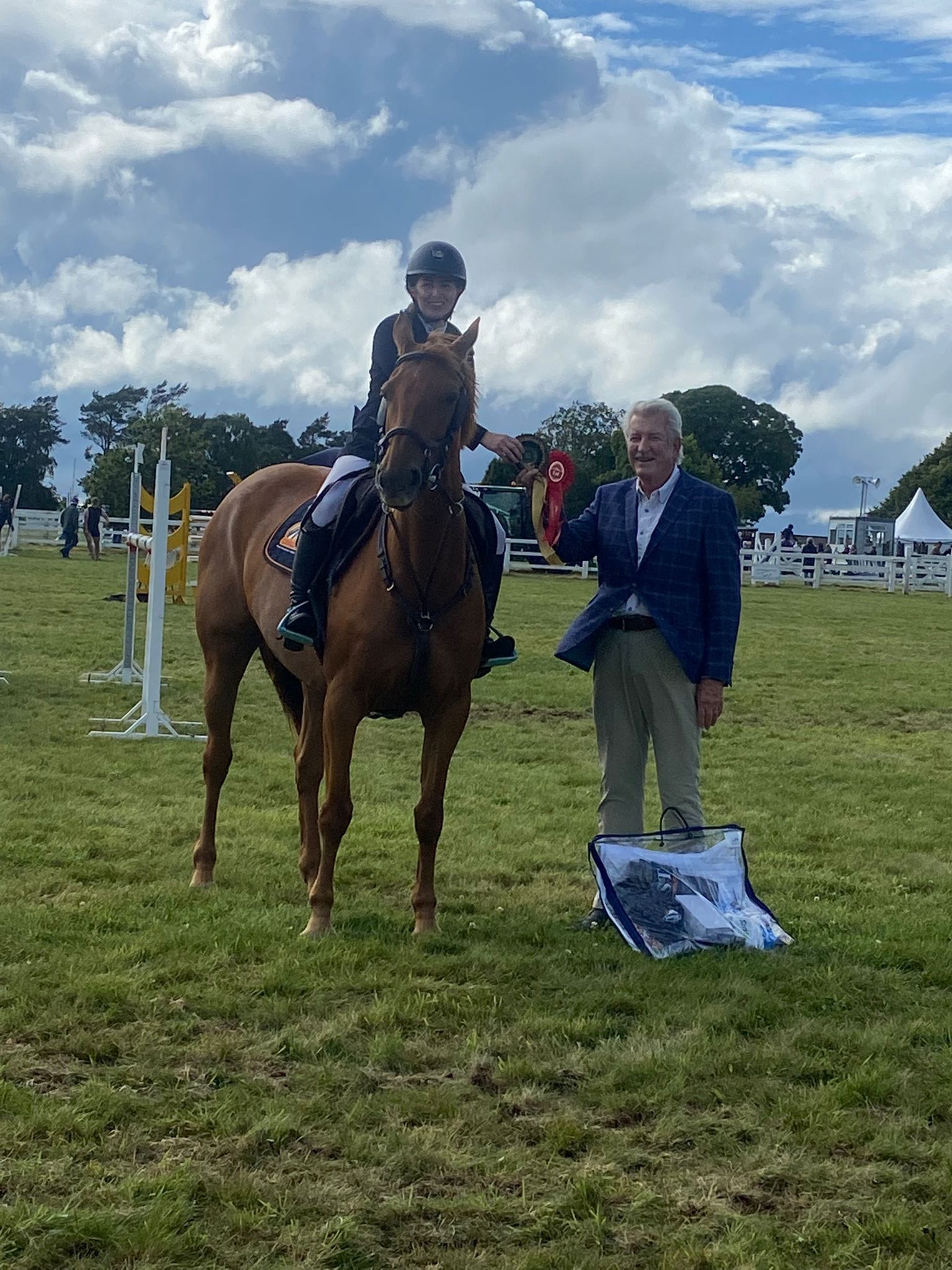 26 Jul

Excitement mounts in the Mervue Equine Leinster Summer Tour

The Mervue Equine Leinster Tour continued last weekend at Tattersalls Ward Union Show. In the 1.35m which was sponsored by the Underwriting Exchange 38 combinations battled it out for the €2,000 on offer in the two phase class.
Taking the win was Nicole Kershaw and Miss Valent when she crossed the line in a time of
26.16. Owned by Lisa Rosbotham, Miss Valent is by Valent and is out of the John Henry sired
dam Miss Siss. This combination recently claimed the runner-up place in the 1.30m in National
Balmoral.
Daniel McAlinden also remained within the 26 second marker with AHG Whiterock Doctor Cruise, crossing the line in 26.60 for second place. Not content with the win, Kershaw also took third place with Clovalent when she came home in
27.41. Emily Turkington played it safe with the seven-year-old Cissi and a clear in 30.32 saw
her come home with a clean sheet in 30.32. Camilla Speirs was only a half second slower with
Ogue BT Special, clocking 31.07 for fifth place, while young rider Eoin Brennan and Eskola M
completed the top six, when clear in 31.57.
There was a huge entry for the 1.10 division of the tour, with 93 combinations battling it out for
the €300 on offer. Leading the victory lap was Emma O' Connor when she partnered Quality
Diamond to a clear in 29.45. This pairing also featured in the line-up in Bannow and Rathangan
as they claimed third place. Owned and bred by Aileen O' Connor, the eight-year-old mare is by
O.B.O.S. Quality 004 and is out of the Coolcorron Cool Diamond sired dam, Coolrua.
The next four placings were filled by amateur riders. Fastest of those on zero faults was Lisa
Doyle (AA) and Corland's Clipper, crossing the line in 29.45. Kilkenny's Marie Hartley (AA) is
proving to be a dominant force in this league and she left nothing to spare as she accounted for
the next two placings. She delivered her fastest round with Nikita Van Het Heidenhof in a time of
29.99 for third place. She was only fractions behind with Scarthill Vendi in 31.12 for eventual
fourth. Michael O' Neill opted for the longer lines with Hermes De Cavalier and clocked 32.86 for
fifth place, ahead of young rider Patrick Doyle and the six-year-old Longhill Cruising in a time of
32.86.
Ever consistent in this league, Aileen Mc Dermott struck again as she took the win in the 1.20m
division. Riding Amber Balou she galloped home with nothing to add in 28.38 seconds. Young
rider Oisin Magee also kept the poles in place with Landslide AW, albeit in a slightly slower time
of 28.98 for second place. There was very little between the next placing as fellow young rider
Marta Hughes Bravo and Miss Belgium came home in 29.27 for third place. A clear from
Victoria Clarke and Carrickview Flamenco in 30.34 ensured her fourth place, ahead of
Catherine Dunphy and Eden who were fractions of a second slower, clocking 30.80. Shane
Goggins decision to place it safe with Boleybawn Cayman saw him come home with a clear
round in 33.15 for sixth place.