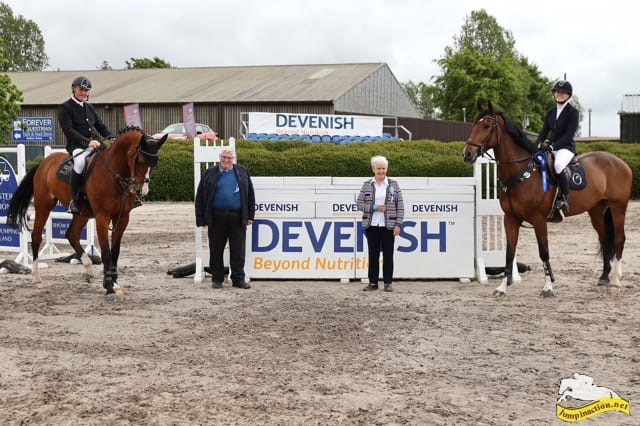 06 Jun

Double of wins for John Floody in Mullingar CSI 2*

Leinster riders get off to a flying start at Mullingar CSI 2* with County Meath's John Floody recording two interantional wins.
In the second international class, the Devenish Nutrition CSI2* 1.30m on Saturday, County Meath's John Floody led the victory lap, when he delivered the winning round of clear in 52.52 with Donevan Erkindale. The pairing were one of 33 clears in a 63 strong start-list. Owned by Kevin and the late Geralyn Thompson, Donevan Erkindale the 13-year-old KWPN gelding is by Unaniem and out of the Faust Z sired dam, Mirthe. This pairing have started their season well with a host of good results, which included a win in the final round of the TRM Showjumpers Spring Tour at Coilog.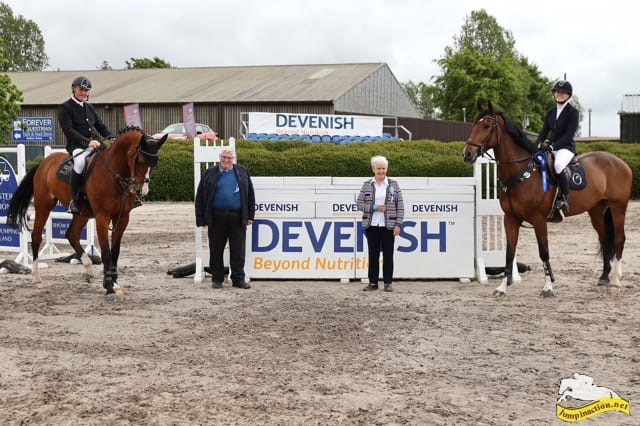 Wexford's Abigail Boland and The Hurricane took the runner-up spot, when they clocked 52.78 seconds. Owned by Mary Boland the 15 year-old gelding is by Tremoelgoch Clinton and out of Milly Gould. The Boland family took over the ride of this reliable mount from Jonathan Andrew, who had clocked up a string of results with him up to 1.40m level.Earlier in the day, in the Glenn Wood CSI2* 1.20m on Saturday, Nicola Fitzgibbon finished in fourth place, when she clocked 56.30 with Ciara Horan's 10 year-old mare,Grenada K. Victory in the Francis Derwin Bloodstock CSI2* 1.40m Grand Prix
Qualifier on Saturday also remained in Leinster as Wicklow rider, Max O' Reilly Hyland took the honours. Riding his own Babar de Bussy, he was one of 29 clears in 60.07 seconds. Bred by MME Anne-Laure Schoenauer, the 10 year-old French bred is by Vicente De Bussy and out of the Indoctro sired dam, Valkyrie De Bussy. Further down the line in fourth place was Jason Foley, who answered all the questions in a time of 61.87 aboard Curra Paco. Owned by Patrick Mckenna and now owned by John Kearney, the eight-year-old gelding is by Pacino and out of the Ard VDL Douglas sired dam Cappog shuna. Finishing one place behind was Francis Derwin, who partnered Deep Pockets to a clear in 62.82.Owned by Francis' uncle Jim Derwin, and bred by Charles Pidgeon in County Westmeath, Deep Pockets, is a 12-year-old gelding by O.B.O.S Quality 004 and outof Simply Chic (Cruising). Deep Pockets is a half-brother to LCC Empty Pockets, which is campaigned by Annie Courtney-Cadam with much success. The gelding was previously campaigned by Francis' sister Kate with much success up to Premier Series Level. Edward Doyle and the Noel Cawley owned Flexability finished in seventh place, clear in 63.24, while Francis Derwin took eighth place with Killerisk Can Ya, clear in 63.64.On Sunday,
John Floody and Donevan Erkindale returned to the winner's enclosure, when taking the honors in the Devenish Nutrition CSI2* 1.30m. Floody left nothing to chance as he galloped home with nothing to add in 28.51 seconds. Offaly's Daniel Carroll took third place with Armani BS when he also delivered a clear, albeit in the slower time of 28.99. Owned by Breda Carroll, the gelding is by Acolord and out of Tiana. Abigail Boland and The Hurricane also returned to the line-up taking fourth place, when crossing the line in a time of 29.22 seconds.
Photo credit Jumpinaction.net