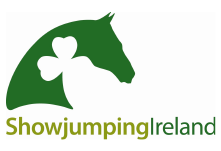 30 May

Win for Darryl Walker this week end at Ballinasloe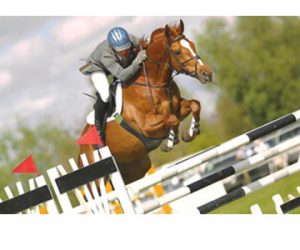 Darryl Walker claimed his first Grand Prix victory of the season when triumphing in the second round of the Horseware/TRM Premier Series in Ballinsloe.
Having taken the runner-up position in the previous day's National Grand Prix with Riverside Ace, Walker went all out to secure the top spot with the 12-year-old mare in Sunday's €10,000 class sponsored by Devenish Nutrition. Paul Duffy had set the challenge for the starting 38 and with 18 combinations returning in the clocked round the stage was set for an exciting contest. Walker took full advantage of a late draw aboard Riverside Ace and having made it double handed into the timed decider knew exactly which shortcuts to take on his second outing recording the unbeatable time of 42.28 seconds.
Walker had an exceptionally consistent season in 2015 with Riverside Ace as one of the mounts that contributed to his National Grand Prix League Championship victory. By Hermes de Reve out of a Naheez-sired dam, Riverside Ace has proven to be a versatile performer not only capable of winning up to 1.50m level but also claiming last year's Cavan Indoor Derby.
Jenny Rankin had set the original benchmark at a fault free 43.57 with the 10-year-old Coltaire Z-sired Baccarat. The second rider in the ring to take on the shortened and raised course, Rankin's time looked set to hold until relegated at the last minute. A new mount for the young rider this season, Rankin spent the beginning of this year in Florida with the mare and has already featured in the National Grand Prix League with a fourth place finish in Cavan this month.
The times drifted wide at this point of the line-up with a clear round proving hard to produce at the quicker pace. Neal Fearon slotted into third place aboard the Billy Congo-sired eight-year-old Billy On Time, across the line in 48.31. Young rider Philip Carey was close behind him with Hip Boy recording 48.50. Carey and the Swedish warmblood have recently been on form qualifying for the 1.35/1.40m Young Rider class at the Dublin Horse Show with a runner-up finish in Cavan. Ger O'Neill provided the last of the double clears with Dondoctro Ryal K, a sedate time of 52.73 guaranteeing fifth place on this occasion while completing the line-up was Jordan Coyle and Colour Blue. Coyle had an exceptionally fast time of 40.14 but paid the price with a single error putting him out of contention for the win.   Horseware/TRM Premier Series Grand Prix League Ballinasloe Show 29th May 2016 Result Sponsored by Devenish Nutrition
Riverside Ace             Darryl Walker             0/0 42.28
Baccarat                    Jenny Rankin              0/0 43.53
Billy On Time             Neal Fearon                0/0 48.31
Hip Boy                      Philip Carey                0/0 48.50
Dondoctro Ryal K      Ger O'Neill                  0/0 52.73
Colour Blue               Jordan Coyle               0/4 40.14