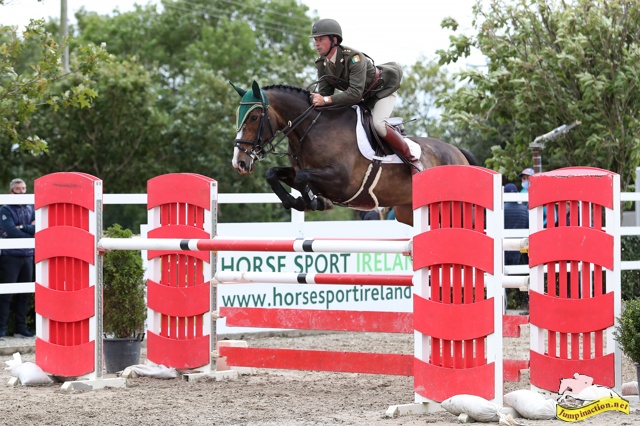 15 Aug

Capt. Geoff Curran claims victory in Coilog

The penultimate round of the Mervue Equine Leinster Summer Tour took place last Friday with each division being well supported.

1.35m

Victory in the 1.35 division of the Mervue Equine Leinster Summer went to the Army Equitation school as Capt. Geoff Curran and Dowth Hill lodged the winning round of clear in 24.91 seconds. Owned by Professor Alice Stanton and the Minister for Defence, the ten-year-old gelding was bred by Kildare breeder Dr. Noel Cawley and is by Flexible and out of the Cloverhillsired mare, Ballinakill Clover. Kildare rider Derek McConnell and Dothraki Warlord slotted into the runner-up spot when they clocked 26.05, ahead of Sean Kavanagh and the Rosemary Reynolds's owned Carousel Gold clear in 27-06 for third. John Floody added to his leaderboard score when he took fourth with the Denyse Hughes owned Ballyknock Diamond, when clear in 27.90. It was a well worth trip for Galway's Mark Duffy as he slotted into fifth place with his own Figaro V11, when they crossed the line clear in 28.24. Young rider Aisling McGuinness and Kilderrys Joint Venture's clear in 29.40 saw them fill sixth place. Along with sixth McGuinness took the leading young rider prize of the round.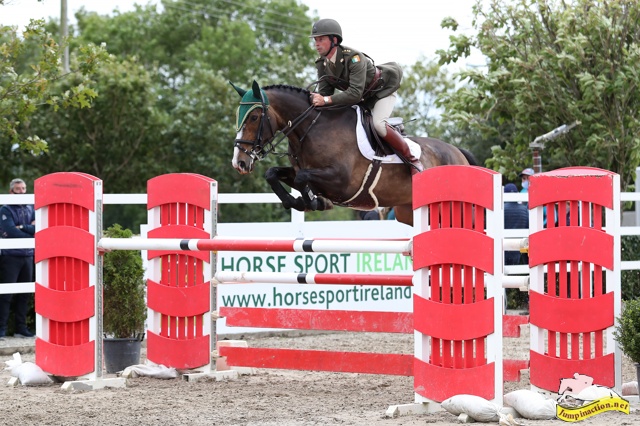 1.20m
Galway rider Sven Hadley made his trip to Coilog worthwhile, as he took first and third place in the 1.20m division. Riding Elastique van de Koekoek, he lodged the winning round in 28.02. Not content with the win Hadley also lodged a very fast round of 28.72 aboard Topspin for third. Taking the runner-up spot was Gerard Clarke and Cyruso who clocked 28.29 seconds. Slotting into fourth place was Andrew Hodgins and Bobello, when clear in 29.18, while Jessica Phelan and Easter Hero, accounted for fifth place when clear in 30.08. Deirdre Doyle completed the top six, when partnered BLM Authentic Diamond to a clear in 30.20.
1.10m
On form of late, Aileen Mc Dermott, made her trip to Coilog a memorable one as she claimed victory in the 1.10m. In early August Mc Dermott took victory in the 1.10m and 1.20m. Once again the Mullingar rider guided her home bred nine-year-old mare Amber Balou ato a clear in 30 seconds.Kilkenny amateur rider Marie Hartley and Nikita Van Het Heidenhof crossed the line clear in 34.24 for second place, ahead of Michael Floody and Indella, who also delivered a foot perfect round in 35.69 for third place. Kildare rider Michael Murphy and Master De Reve, crossed the line clear in 38.11 for fourth place ahead of Declan Mcevoy and Léim an Bhradáin in 43.93. It was a profitable outing for McEvoy, who also took sixth place with Cill Droichid, when clear in 45.40.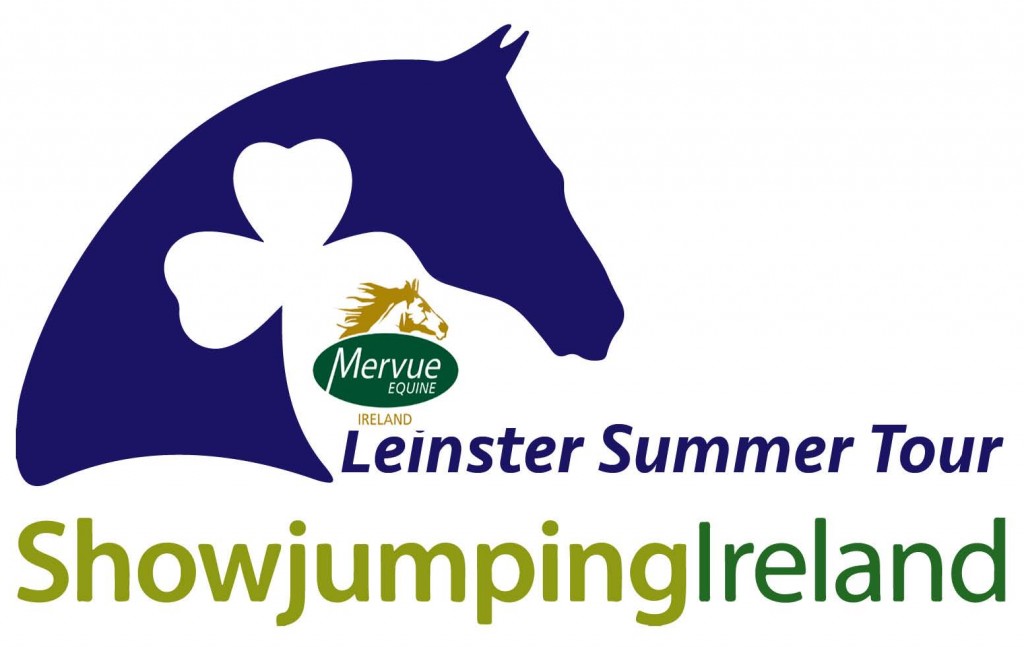 MERVUE EQUINE LST SUMMER TOUR 1.35CM
1)Minister for Defence & Prof. Alice Stanton's Dowth Hill (Capt Geoff Curran ) 00 24.91
2)Sorcha Hennessy's Dothraki Warlord(Derek McConnell) 00 26.05
3)Rosemary Reynolds's Carousel Gold(Sean Kavanagh) 00 27-06
4)Deryse Hughes's Ballyknock Diamond(John Floody) 00 27.90
5)Mark Duffy's Figaro vll (owner) 00 28.24
6)Hazel McGuinness's Kilderry's Joint Venture(Aishling McGuinness) 00 29.40
Mervue Equine Winner – Capt- Geoff Curran
Mervue Equine Young Rider – Aishling Mc Guinness
Mervue Equine LST 1.20cm Tour at Coilog
1) Hadley Sport horse's Elastique Van de Koekoek(Sven Hadley) 00 28.02
2)Gerald Clarke's Cyruso Z(Gerald Clarke) 00 28.29
3)Hadley Sporthorses's Topspin(Sven Hadley) 00 28.72
4) Andrew Hodgins's Bobello( Owner) 00 29.18
5)Tracy Phelan's Easter Hero(Jessica Phelan) 00 30.08
6) Tom Doyle's BLM Authentic Diiamond(Deirdre Doyle) 00 30.20


Mervue Equine Winner –Sven Hadley
Mervue Equine Young Rider – Jessica Phelan
Mervue Equine Working Producer – Deirdre Doyle
Mervue Equine LST 1.10cm Tour at Coilog

1)Aileen McDermot's Amber Balou(Owner) 00 30.00
2)Marie Hartley's Nikita Van Het Heidenhof(Owner) 00 34.24
3)Michael Floody's Indella(Owner) 00 35.69
4)Michael Murphy's Master De Reve(Owner) 00 38.11
5) Declin McEvoy's Leim an Bhradain(Owner) 00 43.93
6)Declin McEvoy's Cill Droichid(Owner) 00 45.40
Mervue Equine Winner –Aileen McDermot
Mervue Equine Young Rider – Kasha Skoczen
Mervue Equine Working Producer – Aileen McDermot
——————————————————————-