26 Sep

Paddy crowned 2020 Mervue Equine champion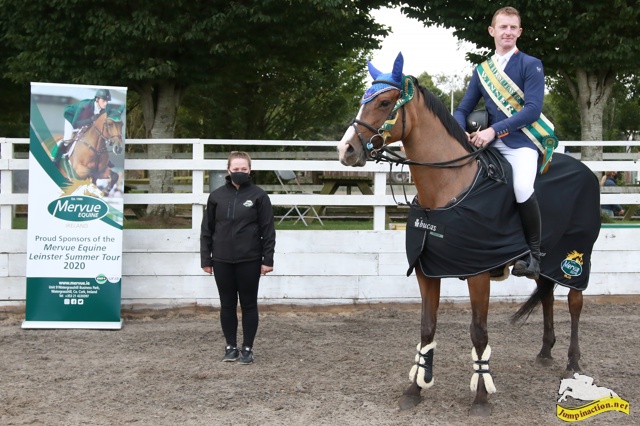 The Mervue Equine Leinster Tour came to a conclusion at Coilog Equestrian last Saturday with champions being crowned in three divisions. Claiming Waterford's Paddy O' Donnell claimed both the 1.35m (Lucy Penny) and 1.20m (Seefin Surprise) crowns, while Kirsti and Connole and Zaza Van Terhofstede were crowned the 1.10m champions. Connole also took the leading young rider title in the 1.10m and the 1.20m. The leading pro-am in the 1.10m was Lisa Doyle (Corland's Clipper), while in the in the 1.20m was Helen Dempsey (Captain Malibu). In the 1.35m, Mark Tracey was the leading pro-am and Robyn Moran was crowned the leading young rider.
1.35m final
In the 1.35m decider, 39 combinations took on the Tom Holden designed course and from Taking the final victory was young rider Robyn Moran and Coolminga Inspector Royal, when they clocked 26.27 seconds. Fellow young rider, Cian Goggins and Valtor De Blagny took the runner-up spot when they stopped the clock in 26.56 seconds.
Darragh Ryan and Thebestof Quality also stayed stopped the clock in 26.94 for third place.
John Mulligan and Mohill Rosetta put in a gallant attempt, but their time of 27.39 saw them secure fourth place. Elaine O' Neill and Hard To Beat (KWPN) also delivered a clear 28.15 for fifth place ahead of Francis Connors followed and Erne Mountain Dew, who clocked 28.75 for sixth place.
Not content with taking the win in the earlier 1.35m division, Robyn Moran returned to lead the victory lap in the 1.20m final. Riding European Cruise, she clocked 22.80 seconds. The next fastest of those and slotting into second place was Seamus Hayes and Ahare Olympic Flemmencio. Paddy O' Donnell filled the next slot when he delivered a clear with Seefin Suprise in a time of 26.32. Amateur rider Helen Dempsey answered all the questions with Captain Malibu in 28.96 for eventual fourth. Kildare's Sharon McConnell was almost a second behind with ESI Global Impact in a time of 29.89 for fifth place. Completing the line-up was Liam Hayes and ESI Notorious, having clocked 30.43.
1.10m
Carlow rider Lisa Doyle claimed victory in the 1.10m final when she delivered a clear with her own Corland's Clipper in 22.14 seconds. Robyn Moran was up for the challenge, but despite a gallant attempt with European Cruise, a clear in 22.69 saw her take the runner-up place on this occasion. Heather Hutchinson played it safe with Simona Lad and it paid off as she came home with nothing to add in 27.78 for third place. Eoghan Murphy slotted into fourth place, when he left all the poles in place with Bishopcourt in 27.83. Filling fifth place belonged to Janni Sjöstrand and Imagine All The People, clear in 28.93, while Helen Demspey and Captain Malibu returned to the line-up, taking sixth when clear in 29.63