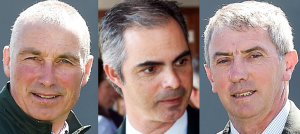 This weekend we have three teams representing Ireland  under the guidance of Rodrigo  Pessoa, Taylor Vard and Michael Blake.
Leinster is well represented on the Team in St Gallen, Switzerland,
St Gallen, Switerland,  4th Round of  FEI Super League Nations Cup
Ireland came home in 7th place with Dermot Lennon\ISH Loughview Lou-Lou(4\8), Richard Howley\Chinook(4\4), Anthony Condon\Balzac(4\8), Mark McAuley\Utchan de Belherne(4\4).  This show does not count for our points in the League.
FEI Nations Cup CSO4 Langley(Can) – 3rd place for Ireland
1st – America
2nd- Canada
3rd- Ireland
Well done to Danial Coyle riding Sue & Ariel Grande`Cita yesterday evening in the Canadian Nations Cup at Lanley under the stewardship of Michael Blake on having the only double clear rounds in the Teams event.
Team Ireland – Langley
Daniel Coyle\Cita (00)
Robert Blanchette\Coupis (13, 2)
Andrew Bourns\CHS Inception (9, (8)
Conor Swail\Flower((17), 1)
————————————————————————–
Why not watch our Young Riders lead by veteran International Shane Carey jump in today`s Nations Cup in Uggerhaine, Denmark CSIO3  at 14.30(Sat 3rrd June)  https://www.vittelhc.ffe.com
Shane Carey
Anna Carway
Michael G Duffy
Matt Garrigan
Max O`Reilly Hyland
chef dÈquip: Taylor Vard
——————————————————————