11 May

Michael Hutchinson wins the second leg of Pegus LST(1.35) at Barndown on Saturday 9th May

The very best wishes to Michael Hutchinson, who was just home for the week end, winner of the Pegus LST(1.35) at Barnadown on \team 27's Laith being his nearest rival by over a second.

Michael starts at his new stables this week and will be fortunate to have a string of 6 & 7 year old horses to compete on straight away.  Ireland loss will be Belgium s gain.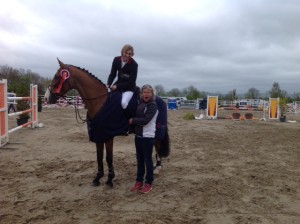 MICHAEL HUTCHINSON, GOWRAN CO KILKENNY WINNER OF THE  PEGUS LST(1.35)
ON SATURDAY ON TEAM 27'S LAITH. KIRSTEN REID, ON BEHALF OF BARRY O'CONNOR IS PRESENTING MICHAEL WITH HIS ROSETTE.