23 Aug

Leinster Riders in the ribbons at the Young Rider's Championship last week end in Barnadown

Jack Ryan is 2017 Leading Rider for the second year at Championships.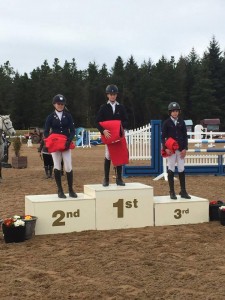 Jack Ryan from Co Kilkenny is 2017  Leading Rider of the National Championships and will receive an International Bursary to  America in 2017/18.  This bursary is part of the work done for Young Riders in America by Michael Blake our talent spotter on the High Performance Committee in HSI and Young Riders Chairman.
Results from National Young Rider's Championships 2017
at Barnadown 18th-20th August 2017
1.10 YR Fri
1)Zazu Van Terhofstede/Kirst Connole
2)Burrin Equestrian Rafiki/Lorna Power
3)Oasis Spirit/Emma Murphy
4) Tankardstown Haribo/Seamus Dermody
5)Emico D.D./Liam Deery
6)Isobella Blue/Thomas Foley
7)Clonmore Tom/Martina Hanley
8)Romeos Illusion/Caoimh Treacy
1.10 Junior
1)Sandballin/Jack Ryan
2) Finnish Boewulf/Jack Ryan
3)Hold that Thought/Rachel Kyne
4)Miss Tonic/James Connors Smyth
5)CES Cougar Hill/Jasson Duggan
6)Quarrycrest Clover/Jessica Foley
7)Pepper Pot/James Connors Smyth
8)Maid in China/Niamh Killoran
Children in Horses
1)Royana De Clairias/Lewis Trenier
2)Lates Sparkey/Orlaith Ryan
3) Lanzamo/Lewis Trennier
1.20cm
1)Just Jump/Laura Connors
2) Tonagh Trip the Light/John Green
3)Cavalchino/Hazel James
4)Emico DD/Liam Deery
5)Turkyle Belle/Eimear Power
6)Delux Diamond/Emma Walsh
7)Knock Ash/Daniel McAlindin
8)Carraigh Samraigh/Harriet Cooper
Juniors
1)Ballyfair deal/Ciaran Nallon
2) Emma/Mark Finnerty
3)Belfields Captain/Ciaran Nallon
4)Sandballin/Jack Ryan
5) Ballyconnell Woods/Shane Moloney
6)All Action/Mark Finnerty
7)Cascum Lewes/John Carr
8)FinnishBoewolf/Jack Ryan
1.30cm
1)Lanlino 31/Nicolas Connors
2) Cavalier Teaca/Jack Ryan
3) Knockash Galanta/Daniel McAlindan
4)Fairfield in the Pub/Daniel McAlindan
5)Elan HJB/Ciaran Nallon
6)Abordable Du Talus/Nicolas Connor
7)Fanta M/Tadhg Kearney
8)All Action/Mark Finnerty
.90cm
1)Bobbie Carolin/Tatienna Ormison
2)Paulank Callowking/Ella Mia Toner
3)New Premier Girl/Leanne O Halloran
4)Goodwins Luxy/Jasin Fitzpatrick
5)Purples Pride/Titienna Ormison
6)RD Powerplay/Michaela Weld
7)LEH Aces High/Maddie Brennan
8)Urban Culture/Martina Hanley
1.00 cm
1) Vinosa D/Emer Kavanagh
2)Tullyunshin Skyfall/Timmy Keogh
3)Millicent Be Golden/Timmy Keogh
4)CES CougarHill/Sean C Duggan
5)New Premier Girl/LeanneO Halloran
6)Ballycommon Kimberly/Meabh Byrne
7)Garrison OBOS/Shaunagh Thomson
8)Weltzel De Lully/Amber McSorley
1.15cm Pro am
1) Ballyconnell Wood/Shane Moloney
2)Vertis Diamond/Samantha Fahy
3)Captain Becca/Niamh Barrett
4)Ballymoe Cruising Riot/Shane Moloney
5)Delux Diamond/Emma Walsh
6) Dundannion/Rachel Kyne
7)Lucky Caros/Eva boland
8)Burrin Equestrian Raffiki/Lorna Power
Saturday 19th
1.10cm YR
1)Verdis Diamond/Samanta Foley
2)Golden Puissance/Ciaran Byrne
3) Made in China/Seamus Killoran
4)Shersheen DVZ/Brendan Murphy
5) Halina HL/Natasha Carolin
6)Smooth Passion Sarco/Leagh Cummins
Children on Horse
1)Latta Sparkey/Orlaith Ryan
2)Lanzamore/Lewis Trenier
3)Royana de Ciaras/Lewis Trenier
1.20cm
1)Emma/Mark Finnerty
2)Cailnea/Cian Harrison
3)Knockash/Daniel McAlinden
4) Michlem Galaxy/Thomas Foley
5)All Action/Mark Finnerty
6)Chantelle/Stephen Murphy
7)Longfield Apherdite/Holly Wheelan
8)Up to Jacko Blue/Thomas Foley
1.10cm
1)Valentina/SaraKate O Donovan
2)Afram B/Robyn Fagan
3)Viverdi Dreams/Thomas Foley
4)Clonmore Tom/Martina Hanley
5) Harona/Zoe Mehigan
6)Ruppicino/Stephen Murphy
7)Zazu Van Terholstede/Kirst Connole
8)Loughnavatta Ash/Emma O Sullivan
1.30cm
1)Cavalier Teaca/Jack Ryan
2)Wannahave/Cian Harrison
3)Billy Salsa/Edward Doyle
4)Enigma/Max O'Reilly Hyland
5)Dorado/Max O'Reilly Hyland
6)Oblivion/Joanna Talvo
7)Fanta M/Tadhg Kearney
8)Chantelle/Stephen Murphy
1 metre
1)Rovana de Clairas/Lewis Trenier
2)Vimosa D/Aoife Kavanagh
3)Golden Puissance/Ciaran Byrne
4)Lanzamore/Lewis Trenier
5)Ballycommon Kimberly/Emma Byrne
6)CES Cougar Hill/Sean Duggan
7)Inspector Hilda/Claire Fisher
8)Little Miss Russell/Lorraine Young
.90cm
1st B0bbie Carrolan/Tatianna Ormison
2)Drumalla Lady/Freya Sayle
3)New Premier Girl/Leanne O Halloran
4) Millicent be Golden/Catherine Keogh
5)Inspector Hilda/Clare Fisher
6)Urban Culture/Martina Hanley
7)Greenhall Mr Q/Eva Hedderman
8)Knockbawn Ranger/Lorna Murphy
1.15 Pro am
1) Kanlue du Karl/Catherina Redmond
2)Dolly \mix/\emer Kavanagh
3)Cassies Dream/Shane Roche
4)Hallina HL/Natasha Carolan
5)Castleforbes Tomico/Danniel Carroll
6)Verdi Diamond/Samantha Foley
7)Lucky Caros/Eva Boland
8)Clann Cavaludam/Maddie Brennan
Sunday
1.10 Championship
1)Ballymoe Cruising Riot/Shane Moloney
2)Miss Tonic/James Connors Smith
3)Pepper Pot/James Connors Smith
4)Longfield Aphrodite/Hollie Wheelan
5)Sarco Girl/Aimee Barry
6)Lates Sparkey/Orlath Ryan(COH)
7)HARONA/Zoe Mehigan
8)Garrison OBOS/Shaunagh Thomson
1.10cm Children on Horses Final
1) Lates Sparkey/Orlath Ryan
2)CES Cougar Hill/Sean Duggan
3)Lanzamore/Lewis Trenier
4)Royana du Clairais/Lewis Trenier
1.20cm Young Rider's Championship
1) Knockash/Shane Moloney
2)Justjump/Laura Connors
3)Excellior van de Noordheaval/Stephen murphy
4)Bally Fair Deal/Ciaran Nallon
5)Calypzo Z/Lisa Hurley
6)Carraigh Samraigh/Harrett Cooper
7)MHS Peyton/Peter O Donavan
8)Michelem Galaxy/Thomas Foley
1.30cm Championship Final
1) Cavalier Teaca/Jack Ryan
2)Oblivion/Joanna Talvio
3)Billy Salsa/Edward Doyle
4)Fanta M/Tadhg Kearney
5)Fairfield in the Pub/Daniel McAlindan
6)Billy Guilder/Edward Doyle
7)Abortable du Talus/Nicolas Connors
8)Blurred Lines/James Dunne
1.15cm Championship
1)Ballymoe Cruising Riot/Shane Moloney
2)Michlem JJ/Susie Osborne
3)Lucky Caros/Eva Boland
4)Garryard Electric Lux/Katie Rayburn
5)Ballyconnery Woods/Shane Moloney
6)Castleforbes Tomiko/Daniel Carroll
7)Quarryquest Clover/Jessica Foley
8)Sarco Girl/Aimee Barry
1 metre Championship Final
1)Royana du Clairais/Lewis Trennier
2)Little Miss Russell/Lorraine Young
3)Lanzormore/Lewis Trenier
4)New Premier Girl/Leananne O Halloran
5)Holy Blue/Nicolas Connors
6)Bobby Carolan/Tatianne Ormison
7)Urban Culture/Martina Hanley
8)CES Cougar Hill/Sean Duggan
————————————-