24 Jun

Jack Ryan on form at Coilog winner of Mervue Equine LST 1.20 Small Tour and Top YR in 1.35 Mervue Equine Summer Series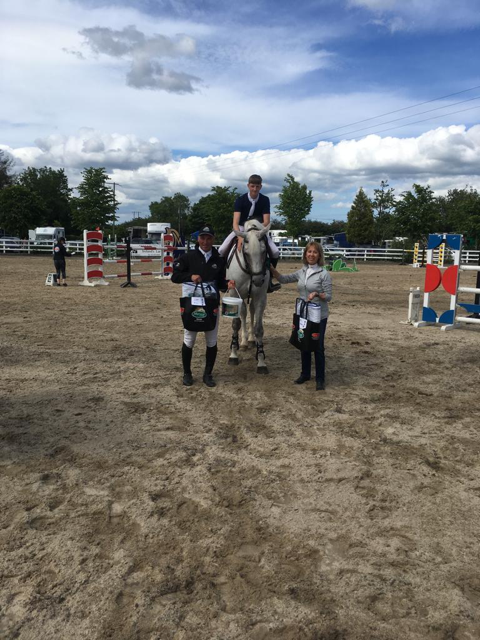 Jack Ryan was in great form with all his very talented stock of young and experienced horses competing at Coilog Grand Prix Show this week end. He won the Mervue Equine Leinster 1.20 Small Tour on A Hamilton's Zavatar F and was the Top Young Rider in Mervue Equine 1.35 Summer Series also.
Jack has been selected this week to represent Ireland on the Junior Squad for the European Championship at de Wolden on 9th -14th July.
Jack is joined on the Junior European Squad by fellow Leinster riders, Harry Allan Kate Derwin, Seamus Hughes Kennedy and Ciaran Nallon(Mayo).
Leinster is well represented on the Young Rider's Squads by Mikey Pender, Jason Foley, Susan Fitzpatrick- Their fellow squad members are Nicolas Connors and Cian Harrison.
On the Children on Horses Squad, Leinster have two representatives: Martha Hughes Kennedy and Ciaran Foley with Lily O Dea, Mathew Connors and Sarah Fitzgerald also on this squad.
We wish all these riders the very best of luck.
MERVUE EQUINE LST 1.20 SMALL TOUR
AT COILOG EQUESTRIAN
1)ZAVATAR F(JACK RYAN) 00 29.63
2)ARTIC LODGE(ORLA CASSIDY) 00 30.36
3)OGUE BALLINASILLOGUE LADY(Taylor Vard)0030.60
4)Pacco Lour(Nicolas Butler)00 31.18
5)Newgrange Lady(Lisa Marie Dolly) 00 33.60
6)Larkhill Countess(John Floody) 00 34.70
7)Hunters Lodge Puissance(Andrew Byrne) 00 34.82
8)Diagrana BF(Elaine O'Neill) 00 35.16
Mervue Equine Winner – Jack Ryan
Mervue Equine Top Young Rider – Jack Ryan
Mervue Equine Top Pro am – Andrew Byrne