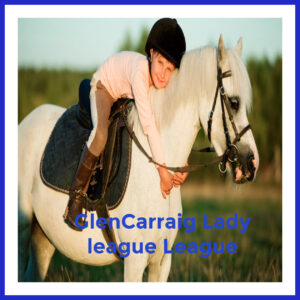 Final of the Glencarraig Lady League Sponsored by M Bagnall
Under 9 years Glencarraig Lady League 2021 « Qualified combinations
| | | |
| --- | --- | --- |
|   |  PONIES | RIDER UNDER 9 YEARS |
| Q | Beyond Precision | Emily McCarthy |
| Q | Knockshanvalley | Emily McCarthy |
| Q | BBS Buddy | Charley May Murphy |
| Q | SHL Little Rocket | Ellen Cash |
| Q | Ballyknocken Tinkerbell | Scott Doran |
| Q | BBS Silver  Enigma | Max Doran |
| Q | Breakfast Toast Coco | Max Doran |
| Q | Maisy | Jack McArdle |
| Q | Miss Mossey | Robyn Lynch |
| Q | Biddy's Spot the Star | DJ Kent |
| Q | Lotso | Lucy Kent |
| Q | Monserrat Seamist | Donnacha Burnss |
| Q | Pumpkin | Noah O'Brien |
| Q | Molly Mae | Alanna Dardis |
| Q | Divernagh's Little Belle | Rachel Sheehan |
| Q | Swift | Rachel Sheehan |
| Q | Twinkle Star Cedar | Ronan Duffy |
| Q | Summer Cedar | Ronan DuffY |
| Q | My Bay Star | Penny O'Brien |
| Q | Walter | Kenzie Kavanagh |
| Q | Windale Blue Saphire | Michael Dunne |
| Q | Sunshine Sheltie | Michael Dunne |
| Q | Archer | Louis Daisy Dalton |
| Q | Brookwater Actionman | Lucy Kent |
| Q | McKay | Tommy Mahone |
| Q | Meadon mor Polar Express | Lily Dooley |
|   |   |   |
Please check your points and text me if you have a query with  pony/rider, dates of show and result and I will correct it to 0872635732 ' Thank you

Under 11 years GLL Qualified Combinations
| | | |
| --- | --- | --- |
|   |  PONIES | Rider UNDER 11 YRS |
| Q | Midnight Sky | Grainne Keogh |
| Q | Vladimir | Grainne Keogh |
| Q | Angel | Hannah Rose Roche |
| Q | Banner Caramba | Lucie Dunne |
| Q | Killeany Limited Edition | Rachel Stack |
| Q | Killawalla Zara | Eyrn O'Reilly |
| Q | Miss Mossey | Ruby Lynch |
| Q | Laffina April | Hannah Rose Roche |
| Q | Torres | Zoe Bagnall |
| Q | Isabelle Queen | Aoileann Cantwell |
| Q | Barravalley Lil | Tara Kennedy |
| Q | Parcglas Golden Venture | Choe Dunne |
| Q | Wingfield into the Blue | Chloe Dunne |
| Q | Lantine Tulip | Cailin Goff |
| Q | Benown Rosey | Ruby Mullins |
| Q | Goldengrove Mossecode | Finn Breen |
| Q | Kyle Indigo | Niamh Wafer |
| Q | Lissarula Cloudly | Emily Wafer |
| Q | Mr Majekia | Blake Kavanagh |
| Q | Mysterix | Kate Moore |
| Q | Pickets Pride Country Squire | Sinead McGrath |
| Q | Peaches | Sinead McGrath |
| Q | Ballyburden Baby | Mark Byrne |
| Q | Kilmoylan Joey | Mark Byrne |
| Q | My Brown Eye Girl | Sophie Sheehan |
| Q | My Brown Eye Girl | Sophie Sheehan |
| Q | Billy Two Shoes | Charlotte Butler |
| Q | Settanta | Jack Hargaden |
| Q | Windale Honey Bee | Jack Hargaden |
| Q | Ramsgrange Ebony | Adam Doyle |
Please check your points and text me if you have a query with  pony/rider, dates of show and result and I will correct it to 0872635732 ' Thank you
If you are in the wrong age class, please let us know immediately. text details with your riders name and age to 0872635732 asap.

Entries for the final are on sjiLIVE under Raheen na Gun Leinster Pony Championships Sunday 29th August 2021.  Please declare asap so we can check your details.
Final of Glencarraig Lady League is at Raheen na Gun Leinster Championships on Sunday 29th August in Kilkenny  
Entry fee 25 euro(10 euro going to St Raphaels day care centre in Celbridge for special needs children and adults and 15 euro to the show) 
We wish to thank Ger O-Brien for his generousity in agreeing to this and thank your mums and dads for their support.  Entries on SJI LIVE.
Under 9 years will jump 70cm in the Final with 1 double and if clear there will be a jump off.
Under 11 years will jump 80cm in the Final with 1 double and if clear, there will be a jump off.