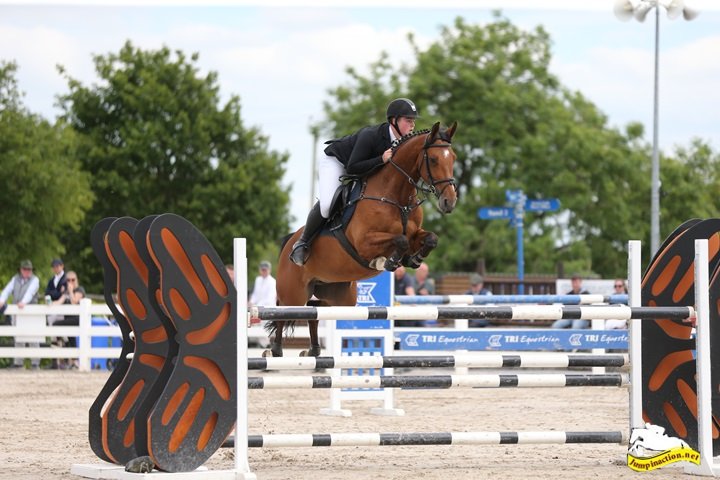 16 Jun

Leinster Riders clock up results in the RDS Horse Qualifier in Mullingar .

In the four-year-old division little separated those in the line-up. Young rider Jason Foley took third place with the Ger O' Neill owned Undeniably Dignified when awarded a score of 83. Mikey Pender took fourth place with the Miguel Bravo & Brendan McSorley owned HHS Flonix, when the judges scored them 82 points. It was a good day for Kildare rider Leah Stack when she took eighth place with BP Finn Mccool on a score of 80.

In the five-year qualifier 110 combinations went to post and claiming victory was Harry Wood. Riding the Ennisnag Mendoza, he logged a triple clear in 32.43Kildare rider Mikey Pender occupied third place with his own Sevilla Van De Berghoeve, clear in 34.38. Fellow Kildare rider Leah Stack took fourth place with the Noel Cawley owned and bred Laurina, when clear in 34.73.Slotting into sixth place was Athlone's Francis Derwin and MMG Candy Lady, clear in 35.75. A clear from Tholm Keane and the Diarmuid Hurley owned Boherdeal Russel in a time of 35.95 saw them slot into seventh place, ahead of Wexford's Ciaran Moran and the Margaret Fennell owned Greenhall Mullord, clear in 36.97. Kilkenny rider Vincent Byrne and the Freestone Farm owned Sumas Knockout, slotted into ninth place when they came home with nothing to add in a time of 37.36. Sophie Richards partnered Maurice Cousin's Monabeg Balou to a clear in 37.74 for eleventh place.

In the six-year-old division, 63 combinations battled it out and nine of those delivered double clears. Taking the win was young Westmeath rider Tadhg McKiernan and Castlelawn Sibon in a time of 37.53. Mikey Pender took another place in the line-up when he delivered a clear with the Bravo Hughes owned HHS Rose in a time of 37.56. Francis Derwin also took another place when he partnered Carol Gee's Leonardo to a clear in 37.78 for fourth place. Vincent Byrne accounted for fifth place with the Killavallig Farm Ltd Sweetnam owned & Quality-Time Van Het Heieinde, clear in 38.02. Tholm Keane was back in the ribbons this time taking seventh place with Seamus Drea's DSH Lucky Junior, clear in 38.63. cBrendan Murphy who was riding Susan Fitzpatrick's Greannanstown Max A Million (6 YO) crossed the line carrying four faults in 37.32 for eleventh place.
In the seven/eight year old's victory belonged to Mikey Pender when he was fastest of 11 double clears in 40.21 with the Bravo Hughes owned seven-year-old HHS Cornetta.. Brendan Murphy returned to the line-up to take second place with William Mcdonnell's PLS Somers Knight (7 YO) in 41.87. It was a well worth trip for Mikey Pender as he claimed fourth place with the Bravo Hughes owned HHS Los Angeles (8yo), in a time of 42.44. Elaine O' Neill accounted for seventh place with the Keith Ennis owned eight-year-old Olympic GL FVD, crossing the line in 44.75.