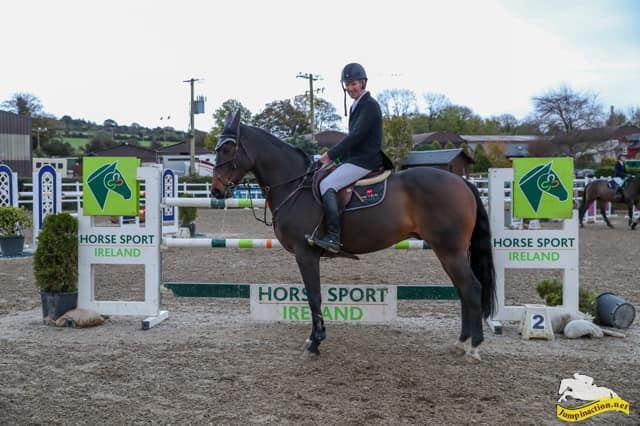 03 Nov

Victory for Edward Doyle and Brendan Murphy in Barnadown

Edward Doyle wins the HSI & SJI Autumn Development Grand Prix Series in Barnadown.It was another good weekend for Leinster Showjumpers as they took five of the top six placings in the series. Doyle took the win aboard Chacco Bay when he was fastest of just two double clears in 44.74. He also claimed sixth place with Flexability, when he was fastest of the four faulters in the first round.The Cawley family bred both of Doyle's horses and picked up the leading breeders prize of the round. Owned by Lisa Cawley, Chacco Bay is a nine-year-old gelding by Chacco Blue and out of the Cruising sired dam, Cruise Leaf is a 10 year-old mare by Flexible and out of Diamond Ballerina. This is the second good result for this combination in the series, having claimed third place in the opening leg in Mullingar.Fellow Kildare rider, Jamie Garland played it safe with her father's Zedlepplin and it paid off as they crossed the line with nothing to add in a time of 46.95 for second place.Kilkenny's Eddie Moloney set a very fast time with Temple Alice, clocking 41.97, but four faults would mean that he would have to settle for fourth place. This combination had claimed fifth place the week before in Killossery. Owned by Moloney and TSI Equestrian, Temple Alice is a nine-year-old mare by Foxglen Cruise Control and out of the Rantis Diamond sired dam, Innishannon Shamrock.Wicklow's Brendan Murphy set the fastest time in the five-way jump-off with City LVM when clocking 32.02, but with two down, he took fifth place in the line-up. Owned byHelen O' Regan and John Hoyne, City (LVM) is a nine-year-old Dutch bred gelding by Cicero Z and out of Camousine Z.

Brendan Murphy leads the Charge in the seven/eight-year-olds

Brendan Murphy wins the seven/eight year-old HSI Autumn Development Series in BarnadownWicklow rider Brendan Murphy was also in the winnings at Barnadown as he led the victory lap in the seven and eight-year-olds. Riding the eight-year-old RHS Blue he delivered a clear in in 37.01 seconds. Owned by John Hoyne and bred by Deirdre McGuckian, the eight-year-old mare is by Cheers Cassini and is out of Tullibards Ask Benny.Eddie Moloney accounted for two placings in the line-up. He took third place with the Peter O' Toole owned eight-year-old Ardkyle, clear in a time of 39.24. Bred by Etter Sportpferdeag, the gelding is by Aganix Du Seigneur and out of Abercrombie B. Moloney also took fourth place with Niall Greene's seven-year-old, Damma Kannan Supreme when clear in 40.56. Bred by Greene, the gelding is by Kannan and out of Tonagh Trip The Lights.