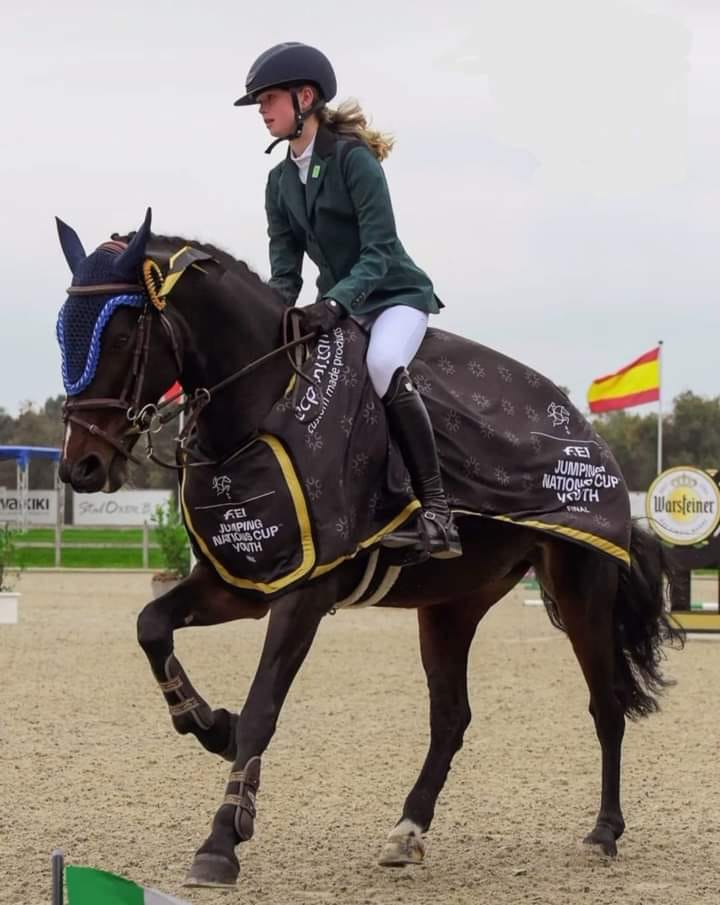 24 Sep

Leinster riders deliver the results in FEI Jumping Nations Cup Youth Final Peelbergen 2021

Mullingar's Alanna Fagan was in the ribbons on Friday as she led the victory lap in the EquiHome Prix – CSIP Table A on Time 1.20m Riding the 10-year-old Midland Premier Farms, she delivered a clear in 57.64.

Super result for Dublin rider Caragh Charlton and Miss Belgium 111, who took sixth place in the Avant Machinery Prix – CSIOJ Table A on Time 62.12 in Peelbergen. Winner of the class Rhys Williams and Conthanja.
Charlon is also part of the James Kernan Irish Junior Show Jumping team along with Wicklow's Ciaran Foley (Kingsborough Verdiva,) Ryan Sweetnam (Quisto) and Rhys Williams (Cowboy Balou,) that took third place yesterday and in doing so qualified for Saturday's FEI Junior Nations Cup Final. In the team event Charlton jumped clear, while Foley had one down.
Later that day, Dublin's Aisling Mcguinness and Kilderry's Joint Venture took third place in the 1.35 CSIO young riders small tour when they were one of five clears in 70.43.
Athlone's James Derwin and Kilkenny's James Brennan was part of Gary Marshall's team that shared the win with Denmark in the FEI Jumping Nations Cup Youth Final Peelbergen 2021.

Well done to the team Ireland as the quartet finished on a score of 12 faults. Kilkenny's Kayleigh Soden delivered a clear with Ard Leaderman, Nallon had one on the ground, while Conlon had two on the ground. Dublin rider McGuinness finished on 13 faults with ESI Nelson.

Wicklow's Ciaran Foley and the former eventer, Ballylynch Wizard filled the runner-up slot in the CSIOJ Two Phases Special 1.30m, when they kept the poles in place in 37.84. Taking victory was Rhys Williams and Conthanja when they were fastest of eight double clears in 37.71.

In the proceeding 1.35m young riders class, Aisling Mcguinness and Kilderrys Joint Venture, took 10th when they finished on four faults in 39.60.