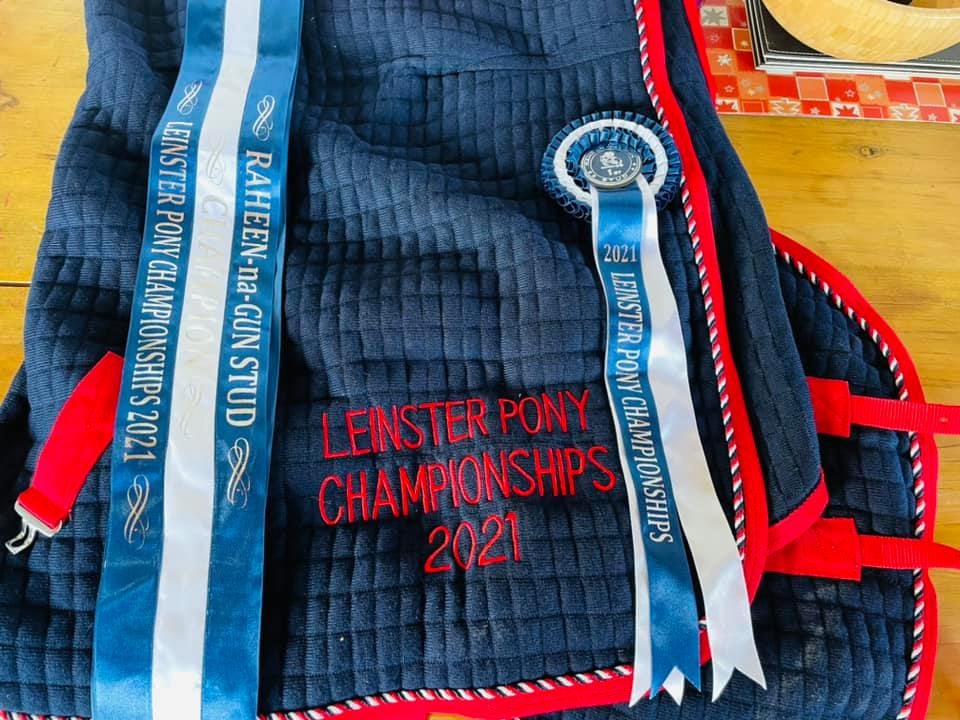 30 Aug

Leinster Region Pony Championships

Well done to all those riders that took part today at the Leinster Pony Championships at Raheen Na Gun Stud.
128cm
Taking the win in the 70cm final was Willow Gavain and Mrs Tiggy Winkles when they galloped home in 43.55. Slotting into second place was Susan Brannigan (L) , clear in 44.02, ahead of DJ Kent and Biddy Spot the Star, when they stopped the clock in 44.57.
In the 90cm Final, victory went to Kate Boland and Garryndruig Ringo Star, when clar in 32.47, ahead of Emily O' Brien and Ballyknock Master Roan in 35.75. Third place belonged to Ruby Liy Gaines and Boreton Rocketeer, clear in 38.54
Leading the victory lap in the 128cm 1m was National Pony Champion Ruben Foley and Ashwey EL Britaniko, when clear in 34.45. Foley also took second place for good measure with Bella, when he stopped the clock in 36.51. Ted Fagan's clear with Kiltormer Ruby in 37.43 saw him take third place.
138cm
It was a good outing for Katie McGrath as she took the win in the 80cm when she galloped home in a time of 32.87 with Murloughdale Dark Moon. Charlotte Butler opted for a more stedy approach with Billy Two Shoes and it paid off as they delivered a clear in 34.19 for second place. Taking third place was Claire McGrath and Tyson, when they stopped the clock in 36.84.
Claiming victory in the 1m was Edie Coddy when she was the only rider to remain within the 30 second mark. Riding Tempest Glenville (6 YO), she stopped the clock in 29.14. Noah Murhpy and Riverdale goliath (8 YO), came home in 30.60 for second, ahead of Patrick Byrne and Dalways Counting Daisies in 31.55.
It was a good weekend for Annie Boland as she took the win in the 1.10m, when she was the fastest of just two double clears with Mayfly Black Pennell in 29.66. Lauren Adams also continued her good show of form, when she crossed the line aboard Riot Del Pegulit, in 30.64. Fastest of the four faulters in 29.95 and taking third, was Michaela Dunne (L) and Beaver Valley.
148cm
Taking the win in the 1m final was Conor Roche and The little Squire, when they crossed the line, clear in 30.29. Chloe Walsh was almost two seconds behind with Althrop in 32.26 for second place, ahead of Jack Galway and Koninshoek Mistique, in 32.90.
Leading the victory lap in the 1.10m was Rachel McGrath, when she stormed home aboard Aherlow Boy in a time of 28.76.. Jamie Hargaden (L) and Clonagoose Daniel Dubh, also delivered a clear, in a slower time of 30.29 for second, while in third was Matthew Sheehan (L) and Cuffesgrange Mystique (8 YO), in 32.22.
Maisie Adams added another title to her impressive record sheet, when she took the win in the 1.20m final. Riding Lexius "E" Van Het Juxschot, she crossed the line clear in 33.32. Rachel McGrath was back in the ribbons, taking the runner-up spot with Tirconaill Bluebell, clear in 34.38. Annie White didnt hang about with Red Star Optimus (8 YO) and a clear in 34.94 saw her take third.
Ruben Foley picked up another prize when he took the win in the six-seven-year-olds. Riding the seven-year-old Pixie 111, he delivered a clear in 30.30. Lauren Adams picked up another prize when she took the runner-up spot with the six-year-old Quintaira D Z, clear in 34.02, while in third was Billy Sinnott and Springrove Candy Girl (6 YO), who was also clear in 34.20.
Glencarrig League
Winner of the Glencarrig U9 70cm Final was Ronan Duffy and Twinkle Star Cedar, when clear in 33.30, ahead of Max Doran and Breakfast Toast Coco in 33.67. Filling third place was Alanna Dardis and Molly Mae, who crossed the line with nothing to add in 37.15.
In the Glencarrig U11 80cm Final, 25 battled it out, and in the end it was Mark Byrne and Kilmoylan Joey that claimed victory , when they came home clear in 34.20. Just over a second behind was Aoileann Cantwell (L) and Isabell Queen, who clocked 35.23, ahead of Grainne Keogh and Midnight Sky, in 37.59.
Children on Horses
It was a win for Alanna Fagan as she was the fastest of just four double clears. Riding Ballycarrick Lass, she crossed the line in 31.26 to claim victory. Annie Boland was back to take another prize, when she partnered Kahlua Du Karl to a clear in 34.98. Kilkenny rider, Alice Moloney slotted into third with Cosima, when clear in 34.98, ahead of Isobel Hourigan and ESI Carvalho, in 37.36.