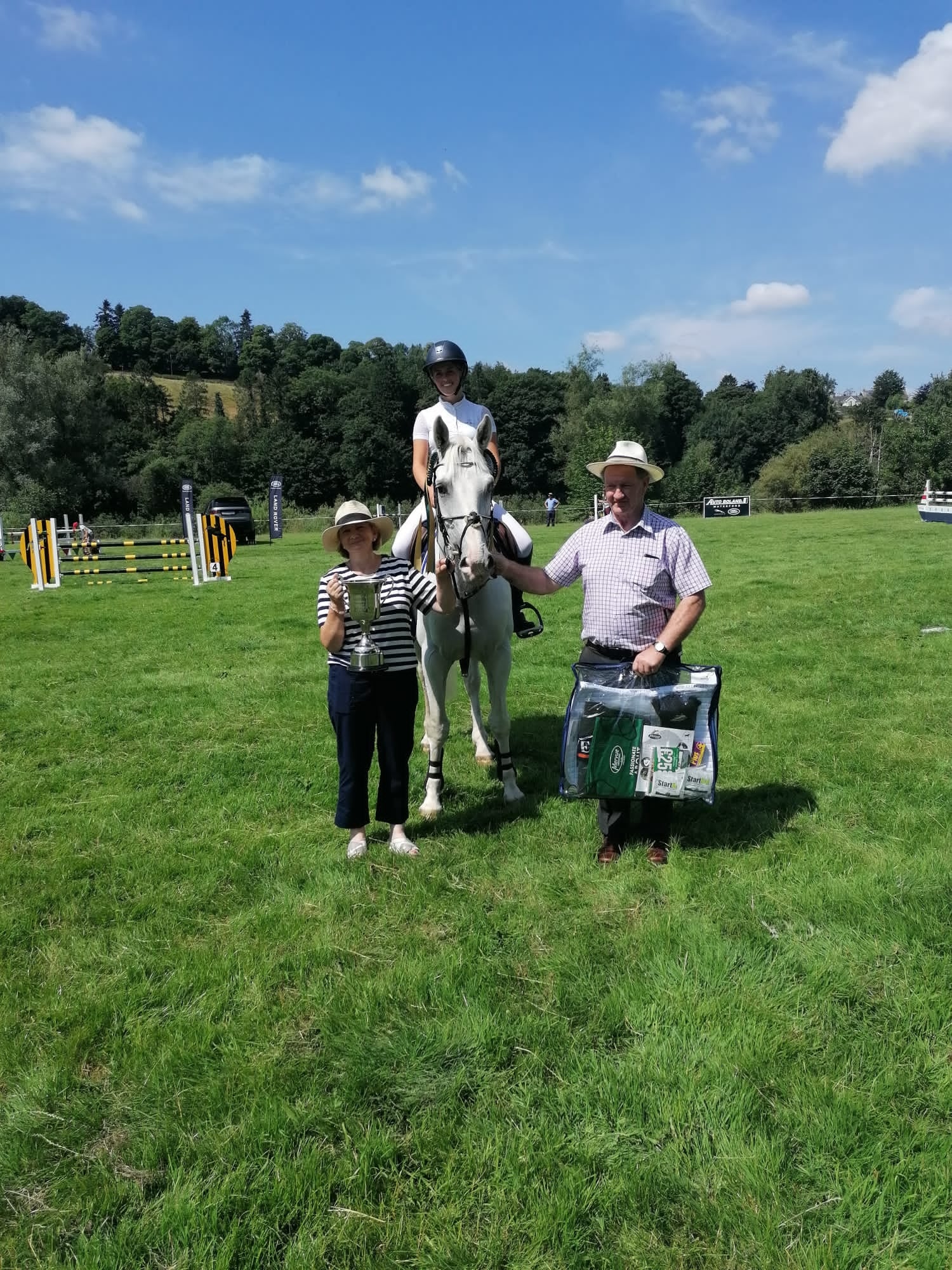 26 Jul

Inistioge plays host to Mervue Equine Summer Tour

The Mervue Equine Leinster Summer Tour headed to Inistioge last Sunday and as expected riders flocked to support this great show in Kilkenny. The Mervue Equine Leinster Summer Tour was well supported with close to 100 entries on the day.

In the 1.35m just two double clears were delivered from the 40 strong start-list. Leading the victory lap Jason Higgins and the Michael Condon owned Creevquinn Pearl, when he stopped the clock in 41.93 seconds. Bred by Stephen and Elisha Reilly, the seven year-old mare us by Cardento out of the Corland sired dam Fragonda. Winner of the Gain Alltech Grand Prix in Coilog on Friday, Francis Connors was back in the line-up as he took second place with Rossa Lough Derg, when they delivered the only other double clear in 42.21. This win also places the combination top of the this section's leaderboard. Local rider, Jack Brennan delivered the fastest time with MHS High Hopes, clocking 40.80, but a pole on the ground meant he had to settle for third place. Abigail Boland had two down in the first round with The Hurricane in 71.60 for fourth place, while Gerard Clarke and Lupins Lux Z, also clocked up eight faults in 74.35 and took fifth place. Declan Mc Evoy suffered the same fate with BLM Cosmopolitan Dandy in 80.81 for sixth place.

1.20m

Local rider, Grace O' Donnell took the win in the 1.20m section aboard Jim O'Neill's Castlefield Cass, clear in 27.64. Along with the win, she also took third place with another of Castlefield Miss, when clear in 29.04. Dividing O' Donnell's placings was amateur rider Gerard Curtain when he delivered a clear with Walking In Paris in 29.03 for second. Gerard Clarke accounted for third place when he kept all the poles in place with Cyruso H, in 31.08, ahead of Keith Moloney and, clear in 33.79. Completing the top six-line up was Nicholas Connors and Fornett D'Emeraude, clear in 34.77.

1.10m

A familiar face in the winner's enclosure, Robyn Moran and European Cruise took the win in the 1.10m when they crossed the line clear in 29.69. Gerard Curtain was back in the ribbons taking the runner-up spot with Cruise For Life, clear in 31.60. Amateur rider, Leonie Dunne (A) and Cavalino 26 also delivered a clear in 35 seconds for third place, ahead of Cian Byrne and Hunters Lodge Puissance in 38.01 . Fifth place belonged to Ellen Murphy and Cidam K, clear in in 38.93, while Tholm Keane took sixth place, when he kept all the poles in place in 39.63 with Mermus R Russel.