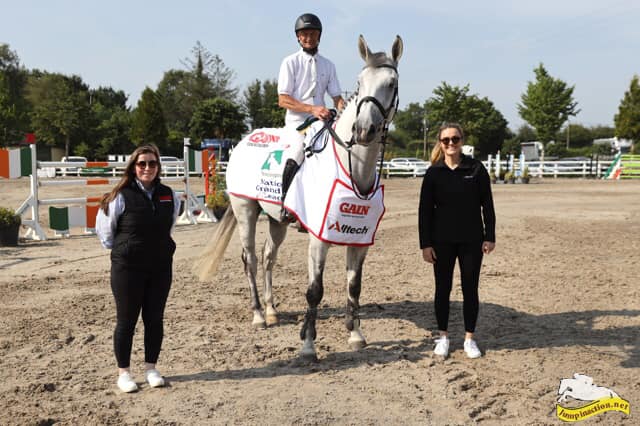 24 Jul

Francis Connors takes the win, but three Leinster riders in the line-up

Francis Connors put his first win on the 2021 National Grand Prix leader board today as he rode to victory in the GAIN Alltech Grand Prix in CoilOg Equestrian yesterday (23rd July). Connor's who has been a multiple winner of the National Grand Prix league is proving to be a contender in this year's league.Riding CSF James Kann Cruz, he was one of four double clears in the nine-way jump-off in 39.24. The win now means that Connors is now in second place on the leader board on 32, points. Bred by Patrick Connolly and owned Anne Clancy and Mary Gannon and, CSF James Kann Cruz is an eight-year-old gelding by Kannan and out of the Crusiing sired dam CSF Telly Cruz. This combination had picked up points in the rounds at Wexford, Cork and Maryville.

There was another good turnout for the league with 33 combinations taking on the Tom Holden designed course.Kildare rider, Edward Doyle slotted into second place with Guru, when he came home clear in 41.30. Owned by Gerard Campbell, the 10-year-old gelding is by Cassini Gold and out of the Ovidius sired dam, Alexia. Kildare's rider Jamie Garland' lodged a clear with her father Roberts Zedlepplin gelding in 48.51 which saw them slot into third place. This 12-year-old is by Luidam and out of Tillula. This was the first Grand Prix placing for this combination this year.Capt. Geoff Curran was last of the double clears with Kilrue, in 49.13 for eventual fourth. Another eight-year-old, the gelding is by Balou Du Rouet and out of SVS Springball.

Edward Doyle proved that time was not an issue as he clocked 38.43 with Flexability, but with one on the ground, the Kildare man had to settle for fifth place on this occasion. Owned by Lisa Cawley and bred by the Cawleys, the 10 year-old mare is by Flexible and out of Diamond Ballerina.Tim Mac Dondonagh and Hollypark Galloway went into this round top of the current standings and an extra four points when finishing in sixth place was enough to hold on to the lead for another week. The combination, like Doyle but in a very fast round, clocking 38.69, but a pole on the ground cost them dearly. Bred by John McCann and owned by Jackie Lee, Hollypark Galloway is a 11-year-old by Castlelawn Galloway and out of the Diamond Lad sired dam, Whitestown Diamond.
The next round of the GAIN Alltech National Grand Prix League, takes place next weekend in Mullingar Equestrian.