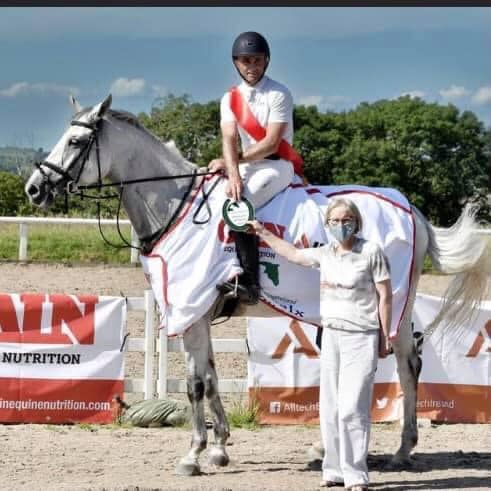 19 Jul

Kildare's Derek Mc Connell takes the Grand Prix in Maryville.

** GAIN|Alltech National Grand Prix Maryville Stables **

Reigning National Champion Derek Mc Connell, lodged his first win in the GAIN Alltech Grand Prix league today (18th July) at Maryville Summer Tour. Riding Izzy, he was the fastest of three double clears in the six-way jump-off in the winning time of 42 seconds.
Owned by Sorcha Hennessy, Izzy is a KWPN eight-year-old mare by Special De Muze and out of Ulrieke. This mare has certainly stepped up to the mark this season, having been placed third in the National Grand Prix in Portmore in May. The pairing also took the runner-up spot in the Mervue Equine Leinster Summer Tour in Jag last month.

Francis Connors following closely behind with CSF James Kann Cruz, in 42.63 for second place. Owned by Anne Clancy and Mary Gannon and bred by Patrick Connolly, the 12-year-old gelding is by Kannan and out of CSF Telly Cruz. This combination is moving up the leaderboard, having also taken the runner-up spot in the round at Cork Show.

Young rider Sarah Connell was last of the double clears with Coolmeen Fair Exchange in 43.48 for third. Owned by Clare Connell and bred by Stephen Lee, the eight-year-old mare is by Lancelot and out of the Olympic Lux sired dam, Brocka Rose. Connell has produced this mare from a four-year-old with much success.

Current top of the leaderboard, Tim MacDonagh added to his tally when he took fourth place with Hollypark Galloway, when fastest of the four faulters in 41.86. Bred by John McCann and owned by Jackie Lee, Hollypark Galloway is a 11-year-old by Castlelawn Galloway and out of the Diamond Lad sired dam, Whitestown Diamond.

Wicklow's Brendan Murphy also had one on the ground with City (LVM), but in a slower time of 42.48 for fifth place. Owned by Helen O' Regan and John Hoyne, the nine-year-old, which was bred by Kein Zuchtbrand is by Cicero Z and out of the Contefine sired dam,
Camousine Z. This combination have been on form, claiming fourth in the HSI Premier Series in Balmoral.

Madeline Roberts Allen crossed the line carrying eight faults with her own Celah Sue De Rialfo Z in 45 seconds for sixth place. This ten-year-old Belgian bred mare is by Coupe De Coeur and out of the Caletto 111 sired dam Olala.

Presentation below with Mary Ryan of Munster Region Showjumping
Bit-Media See less— with Derek McConnell.