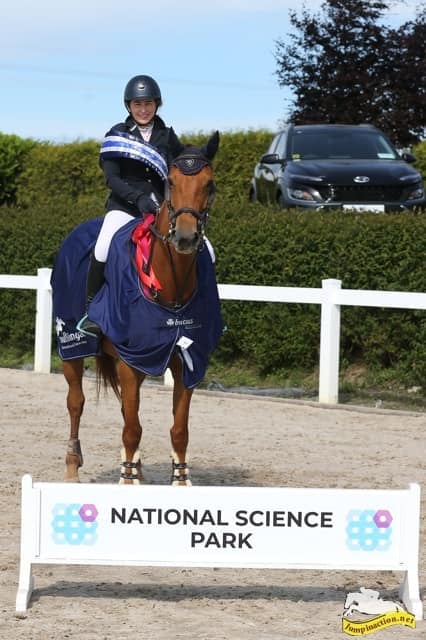 08 Jun

Double of wins for Aileen Mc Dermott

It was a great weekend for Westmeath's Aileen Mc Dermott as she also claimed two major finals at Mullingar today.The first of her wins was the 1.10 Derravarra Championship. Riding the Amber Balou, she was fastest of 10 double clears in 28.09 seconds. Wicklow's Kirsti Connole and Zazu Van Terhofstede took third place when clear in 30.21, while Longfords Aisling McGreal and Rincoola Macushla claimed fourth when clocking 31.12.

Meath's Alex Reynolds and CES Sunny Cruise delivered a clear in 31.12 for fifth ahead of Kildare's Nicola Fitzgibbon and RNH Parisian Blue, who kept all the poles in place in 32.73 for sixth.Mc Dermott's second win of the day was 1.10 Lake County Ladies Championship. It was a nail-biting class, with only five double clears being delivered. Mc Dermott and Amber Balou, took the win when they crossed the line in 31.79. Fourth place belonged to Carlow's Leonie Dunne who crossed the line aboard Cavalino 26, in 34.30 seconds. Westmeath's Aine Shortall proved out of luck when she recorded four faults with the Carol Gee owned Fernhill Splash, but a fast time of 34.87 saw them slot into sixth.
Photo credit jumpinaction.net