25 Sep

GLENCARRAIG LADY FINAL 2020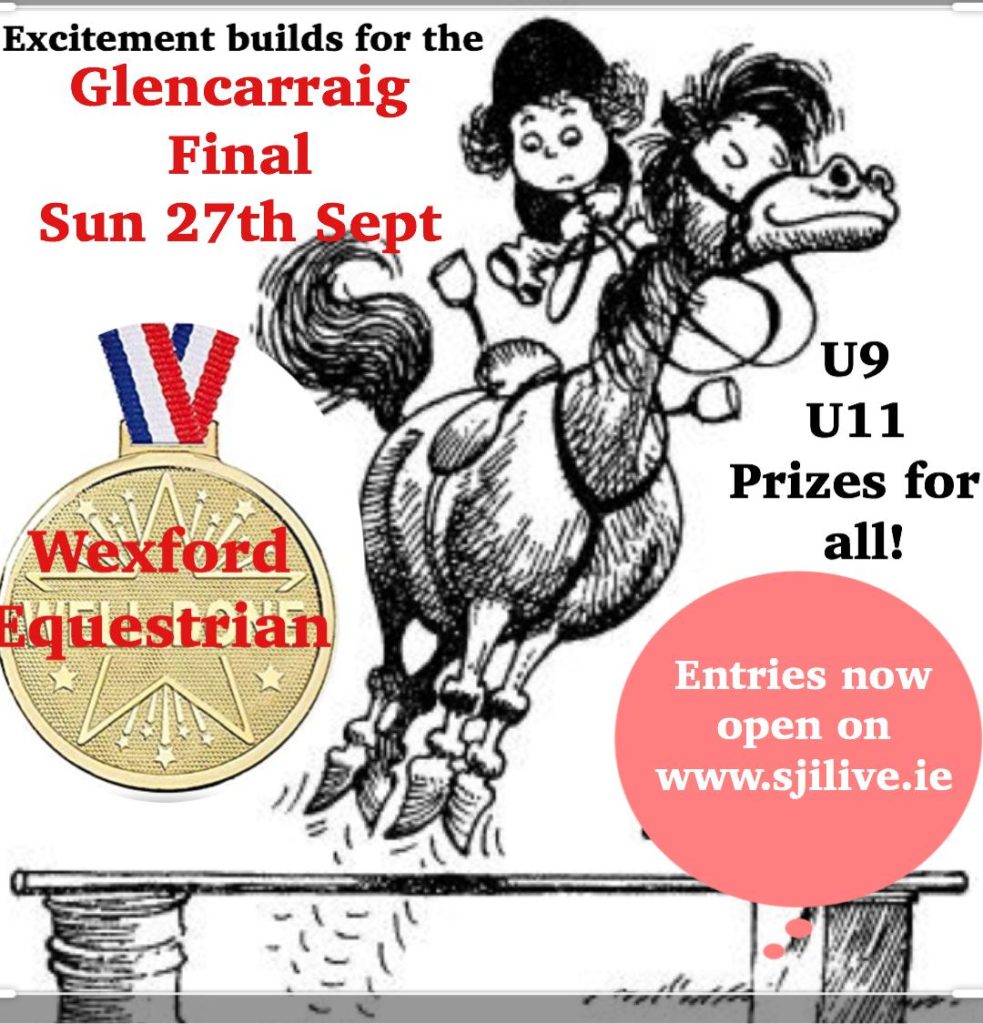 UNDER 9 YEARS QUAIFED GLENCARRAIG LADY LEAGUEPONIES 2020
| | | | |
| --- | --- | --- | --- |
| Under 9 years | Qualified 2020 | | |
| | | | |
| Angel | Hannah Rose Roche | un 9 | QE |
| Archer | Louis Daisy Dalton | U9 | Q |
| Ballyburden Baby | Mark Byrne | u9 | QE |
| Ballyknochan Tinkerbell | Donnacha Burns | u9 | QE |
| Breakfast Toast Coco | Max Doran | u9 | QE |
| Ballymore Finn Bob | Charolette Butler | u9 | QE |
| Cuffstown Queen | Rachel Stack | u9 | QE |
| Cappachino | Claire Nestor | | |
| Deeper Shade | Reuben Dunne | u9 | QE |
| Horrizon Star | Blanthaid Murphy | un 9 | QE |
| Killeeany Limited Edition | Chloe Dunne | u9 | QE |
| Kilmoylan Joey | Mark Byrne | u9 | QE |
| Lenamore Jump for Joy | Emily McCarthy | un 9 | QE |
| Little Dolly | Isabella Bates | Un9 | QE |
| Little Tatyo | Anna Moloney | un 9 | QE |
| Lotso | Lucy Kent | un 9 | QE |
| Lianiafanfawr Bryan | Alagail Byrne | un 9 | QE |
| Midnight Sky | Grainne Keogh | un 9 | QE |
| Monserrete Seamist | Donnacha Burns | un 9 | QE |
| Mysterix | Kate Moore | u9 | QE |
| McKay | Tommy Moloney | u9 | QE |
| My brown eye girl | Rachel Sheehan | u9 | Q |
| Sandyhill Oscar | Tommy Moloney | u9 | QE |
| Sunshine Sheltie | Michael Dunne | un 9 | QE |
| Swift | Rachel Shehan | u9 | QE |
| Vladimir | Grainne Keogh | un 9 | QE |
| Windale Honey Bee | Jack Hargaden | un 9 | QE |
| Woodpark Raphael | Caoimh Murphy | u9 | QE |
UNDER 11 YEAR'S 2020 GLENCARRAIG LADY QUALIFIED PONIES
| | | | |
| --- | --- | --- | --- |
| Waydown Sunflower | Lucy Murphy | u 11 | QE |
| Knockbawn Lady | Niamh Wafer | u11 | QE |
| Lisarulla Cloudy | Emily Wafer | u11 | QE |
| Beyond Pecision | Lucy McCarthy | u11 | QE |
| Bobby jo | David Kent | u11 | QE |
| My Brown Eye Girl | Sophie Sheehan | u11 | QE |
| Cappucino | Claire Nestor | u11 | QE |
| Trudder Stud Bubbles | Jayden Duffy | U11 | QE |
| Jayee | Brona Keane | U11 | QE |
| Lotto | David Kent | U11 | QE |
| Bluestone Girl | Jack Murphy | U11 | Q |
| Carraig Dun | Alexandra Butler | u 11 | QE |
| Muskery Crusadder | Jayden Duffy | U11 | QE |
| PicketsprideCountry Squire | Sinead McGrath | u11 | QE |
Garrydruig ziggy Jack Murphy Un 11 QE
Please note that there is a qualifier in Riverlodge this Saturday.
Please enter online for the Final. Riders start with "0" points in the final.
Final runs under art 238.2.2 (only clear rounds go into the jump off.

WISHING ALL COMPETITORS THE VERY BEST OF LUCK IN THE FNAL.
REMEMBER YOU ARE ALL WINNERS AS YOU QUALIFIED FOR THE FINAL.
PRIZES: UNDER 9 YEARS AND UNDER 11 YEARS
1ST – TROPHY, SASH, ROSETTE, MEDAL, RUG AND CARNATION
2ND – 6TH – TROPHY, ROSETTE, MEDAL, RUG AND CARNATION
BEST TURNED OUT – SASH AND TROPHY
HAVE FUN
THANK YOU TO YOUR PARENTS FOR FOLLOWING THE GLENCARRAIG LADY LEAGUE 2020