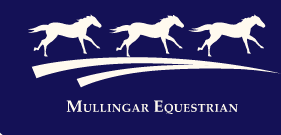 15 May

Mullingar International

Mullingar CSI2* International Horseshow 2018

Entries are now open for the 11th Mullingar International Horseshow: 5 Arenas, 4 Days, €100,000 Prizefund

All classes are pre-entry online on : https://entry.equipe.com/meetings/4/
Full Schedule of Events: https://www.mullingarequestrian.com/rider-information-2/

Key Dates : All Classes are pre-entry online before Monday 21st May*
·         *Monday 28th May – Working Hunter and Showing Arena entries close
·         *Monday 4th June  – enter on the day for Sportsman, lead rein and mini midi maxi classes
·         *Friday 25th May  – 3 Year old Loose Jumping Competition entries close (Millstreet Qualifier)
·         *Thursday 31 May – HSI Studbook Classes entries to SJI
International Entries
FEI SCHEDULE  ENTER ONLINE – INTERNATIONAL ENTRIES, NATIONAL STABLES  FEI JUMPING RULES
International Rules
The International Classes are open to everyone, as long as both athlete and horse are registered with the FEI. A horse doesn't need an FEI passport but needs to be FEI registered, which is 30 Euro. A rider needs to be FEI registered which is either 80 Euro, for just Mullingar, or 175 Euro for the whole year. Apply now to Horse Sport Ireland (see links below).
Horses may be entered in the Gold or Silver Tour. Riders may enter a maximum of three horses in total.
GOLD Tour (Int. 2,3,5,6,8,9) 1.30/1.45, Entry Fee €350 (incl. Stable) + €40 FEI Medical & Manure Disposal  Charge
SILVER Tour (Int. 1,2,4,6,7,8 ) 1.25/1.30, Entry Fee €330 (incl. Stable) + €40 FEI Medical & Manure Disposal Charge
Cancellations deadline: midday Monday 21 May, in writing only, to [email protected]com. There will be no refunds after the cancellation deadline.
FEI PASSPORT, ATHLETE REGISTRATION INFO DOWNLOAD FEI ATHLETE REGISTRATION FORM
DOWNLOAD FEI HORSE / PONY REGISTRATION FORM DOWNLOAD FEI / HSI CREDIT CARD PAYMENT FORM
National Entries – SJI Horse & Pony Classes
To facilitate live reporting of startlists and results on the Equipe App, all classes are pre-entry online with a €10 deposit per class.
Entries may be withdrawn / undeclared up to 4.00 pm on 21 May without penalty. €10 start fee per entry is not refundable or transferable after close of entries on 21 May.
All entries must present an SJI ticket at the show office the evening before or no later than 1 hour before the class starts is scheduled to start.
The remainder of the entry fee is due on presentation of the SJI jumping ticket and can paid at the show office. To ensure smooth running of all classes, late entries and late ticket declarations are subject to availability, and will incur a 20% convenience fee.
Download the Equipe App to view startlists and live results as they happen & follow your horse or pony's performance wherever you are.
Arena Side Marquee
The arena side marquee is the perfect place to entertain your clients and team and take in all the action overlooking the International Classes and young horse classes each day. Each year, the Mullingar International Horseshow attracts the best of talented horses and ponies, breeders and producers, a rare opportunity to network with your peers in a relaxed atmosphere. Bookings are now open for tables for 10 or per person, including 3 course lunch and refreshments – Book online on: https://entry.equipe.com/meetings/4/
The history books tell a compelling story of the horses and riders that found their place on the podium in Mullingar with the International Grand Prix Hall of Fame filled with familiar names successful today on the world stage: Clem McMahon, Francis Connors, Scott Brash, Vicky Tulloch, Capt David O'Brien, Alexander Butler, Joan Greene, Jordan Coyle, Sophie Dalm …
As well as the FEI CSI2* International Classes, there is a full schedule of national Show Jumping Ireland classes for horses and ponies, Horse Sport Ireland Studbook Series for 5, 6 & 7 year olds, 'Koro D'or' 3 Year Old Loose Jumping, Pegus Horse Feed Dublin Horse Show Puissance qualifier, the Ballyowen Maybell Molly 148 Pony Grand Prix, the Mullingar International Future Stars under 10 Championship, the Amateur Dingo Qualifier and Grand Prix and EquiFestival Of Ireland Working Hunter qualifiers.
We look forward to welcoming you to Mullingar for the 2018 edition and wish you a safe and successful show,
The Team at Mullingar Equestrian
Athlone Road, Mullingar, Co Westmeath, Ireland
Website: https://www.mullingarequestrian.com/
Tel: +353(0) 4493 48331 |
Fax: +353(0) 4493 49004