11 Sep

Stephen Murphy takes the Mervue Equine Small Tour at Barnadown IBC on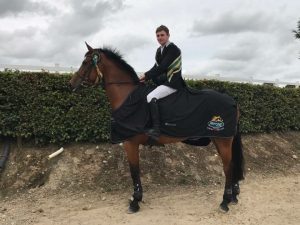 Stephen Murphy from Straffan, Co Kildare on his own horse Excellsor Van De Noorsheuvel  won the  2017 Mervue Equine Small Tour(1.20cm) at IBC Barnadown.
Marti Rudd won the Pro am Prize kindly sponsored by Mervue Equine.
We wish to thank the Leinster Region of Showjumping and Mervue Equine for their kind sponsorship of 2017 Leinster Summer Tours.
We also wish to thank 9 shows involved, Bertram Allan for his kind sponsorship of a weeks training at his yard in Germany with free accommodation and flights and Ian Fearon for sponsoring the Pro am Bursary for the second year.
Lastly, we wish to thank Felicity and Maurice Cousines and Irish Breeders Classic for including our Tour in their schedule.