12 Sep

Thank You to the Sponsors of Leinster Summer Tour 2016 & all involved in supporting it

The Leinster Region of Showjumping would like to take this opportunity to thank our sponsor of the Mervue Equine Leinster Summer Tour for their support in 2016 & look forward to working with them in 2017.  Francis Connors won the Tour with John Floody came in as "Runner Up".

We, also, wish to thank Cian O'Connor for his continuous sponsorship of a week's training with him at his Karlswood Stables.  This is a very popular prize and we hope that this will be used successfully by this year's winner, Jenny Kuehnle.  Cian has been involved with this sponsorship since the beginning of the Leinster Tour.

A new stipulation to this bursary this season is that the training must be used within the year from the date of the finals in 2016 and if it is not used by that date, it will be handed down to the runner up on the Leader Board.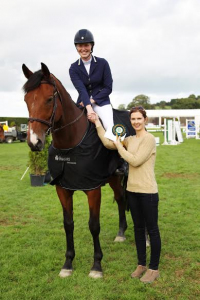 Deirdre Doyle was the winner of this section of the Tour and we wish to thank High Performance Tutor, Ian Fearon for sponsoring this section and Deirdre is thrilled to be the first winner to be awarded this fantastic prize.
A BIG THANK YOU TO ALL OUR SPONSORS, THE SHOWS AND SPONSORS OF EACH LEG OF THE TOUR .
——————————–