19 Jul
THE Pegus Leinster Summer Tour hosted a double-bill of action at the weekend, beginning at Warrington EC in Kilkenny on Friday, before moving further south to Wexford EC on Saturday. Kilkenny's Ger O'Neill scored a home win at Warrington with the Sharon Fitzpatrick owned Isacorada, the Bennettsbridge rider coming home clear in 42.59 seconds, to finish almost two second ahead of his nearest challenger with the 11-year-old mare who is by Accorado.
Kildare's Nicola FitzGibbon finished second with the Lady Georgina Forbes owned Castleforbes Paddington (44.53), while young rider Jennifer Kuehnle slotted into third place with Chaitanya 2 (45.40). The next three finishers all came from Kilkenny, with Anna Carway taking fourth place with Ajaccio, just ahead of Ellie Moloney – who is part of the Moloney family who run the very successful Warrington EC, she partnered Lord Hugo Warande to fifth place.
All of the top five finishers posted double clear rounds, while Lisa O'Farrell and Erkina Heather producing the fastest time of the day, however one fence on the floor left them in sixth place at the finish.
Doyle Wins at Wexford
The Pegus Leinster Summer Tour moved to Wexford EC on Saturday, where once again there was a local winner, with Wexford's Deirdre Doyle grabbing top spot with BLM Authentic Diamond, crossing the line clear in 41.33 seconds. Doyle had over two seconds to spare over runner-up Rebecca Kenny with Dancing Matilda (43.94), while Kilkenny's Anna Carway scored her second top-six placing in two days, this time finishing third with Claricella.
One of just four riders to make it into the jump-off, Jonathan Andrew finished fourth with The Hurricane when they completed the second round with 12 faults, while Patrick Byrne and BGS Ocean View were the fastest of the four fault scores from the opening round to take fifth, while Neilus O'Donoghue and Potterys Field took sixth spot.
Pegus Leinster Summer Tour  – Warrington Equestrian Centre 17/07/2015
1. Ger O'Neill/Isacorada 0/0 42.59
2. Nicola FoitzGibbon/Castleforbes Paddington 0/0 44.53
3. Jennifer Kuehnle/Chaitanya 2 0/0 45.40
4. Anna Carway/Ajaccio 0/0 48.78
5. Ellie Moloney/Lord Hugo Warande Z 0/0 49.81
6. Lisa O'Farrell/Erkina Heather 0/4 40.80
30 Starters  – Two Phase Competition
Pegus Leinster Summer Tour  – Wexford Equestrian Centre 18/07/2015
1. Deirdre Doyle/BLM Authentic Diamond 0/0 41.33
2. Rebecca Kenny/Dancing Matilda Rebecca Kenny 0/0 43.94
3. Anna Carway/Claricella 0/0 45.52
4. Jonathan Andrew/The Hurricane 0/12 42.16
5. Patrick Byrne/BGS Ocean View 4/ 83.41
6. Neilus O'Donoghue/Potterys Field 4/ 88.16
11 Starters – Two Phase Competition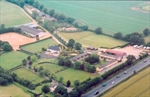 Karlswood Stables
The Pegus L.S.T [1.35M] visits 14 venues across the Leinster province, with the final round taking place at the Irish Breeders Classic in September, carrying a total prize fund in excess of €20,000.
The top Young Rider in the Pegus LST will receive a bursary of a full week's training with Olympic Bronze Medallist Cian O Connor, with accommodation for both horse and rider provided at his Karlswood Stables base in Co Meath.
About Pegus Horse Feed
Pegus Horse Feed has been to the forefront of equine nutrition in Ireland for over 40 years and works with the world's leading nutritionists, givingPegus progressive understanding of the modern equine. Pegus Horse Feed is manufactured in three of the most technically advanced mills in Europe, using carefully selected-high quality raw materials and meticulous production techniques, providing customers with the confidence that every scoop from every bag of Pegus is equine feed perfection.
Pegus Horse Feed is available through Dairygold Stores, Liffey Mills Branches, Drummond Stores,. Pegus Feed is also distributed in Northen Ireand through John Thompsons of Belfast and Independent Merchants nationwide.
Pegus Horse Feed have a dedicated Freephone Nutrition Helpline 
R.O.I 1800-378463
UK 0800-0114182