06 May

Glencarraig Lady League 2015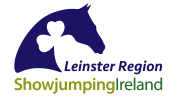 Glencarraig Lady Leader Board will be posted on this site and on South County Horse Show facebook
GLL Master08052015.xls – GLL15
Warrington 23rd May at 10am
Oylegate 24th May
south Leinster 30 th May
Tagmon 1st June
Coilog 7 th June
Clonroche 7th June
Co Wexford Agricultural 28th June
Raheen Na gun 20 th June
Gorey Agricultural
Bannow Rathangan
Adamstown 4th July
Ballyfoyle 26th June
Warrington
St Mullins
Castlegannon 20th July
*Temporary Tickets are included in the point system in the league but in the final, they cannot compete against the clock but can jump for a rosette and medal.
other shows maybe added to this list.  Please keep an eye on show schedules and check  the show dates before leading off.
Please note that all shows in Leinster Region that have Glencarraig Lady League in their Schedule -points will be awarded from their show.
—————————————————————————
Rules
Points to qualify for the finals – 250 points
Course of 8 fences with no doubles x 2 rounds
Final will be held at the South County Dublin Horse Show on Sunday 2nd August, 2015
Ponies 128/138cm. Ponies may be Grade A but athletes cannot compete in the RDS Qualifiers or have competed in RDS in 2014.
All tickets and marking sheets must be sent back to Glenellen, Ardrass, Celbridge, Ci. Kildare.
Final
Under 9 years will jump first in the final under art 238.2.2. Presentation of Prizes follows.
Under 11 years will jump second in the final under art 238.2.2 Presentation of Prizes follows.
Course of 8 fences including a double 70cm for under 9 years & 80cm with a double for under 11 years on 1st January 2015.
Entry fee for Final 25 euro(money goes to charity)
——————————————————————————–
Points gained from each show
10 points = competition in the competition
10 points = completing first round
10 points = clear first round\\\
10 points=completing second round
10 points=clear 2nd round
Total 50 for double clear.
All enquiries to [email protected]