26 Apr

Pegus LST (1.35) Tour-Northern Ireland white-wash on opening leg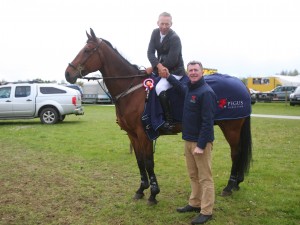 It was a North of Ireland white-wash in the opening round of the Pegus Leinster Summer Tour at Louth County Show on Sunday, as riders from the Ulster province incredibly filled nine of the top ten places.
Former world champion Dermott Lennon claimed the winners prize after a brilliant double-clear round with Vampire, the Sandra Lennon owned Andiamo sired 13-year-old gelding stopped the clock in 30.83 seconds to give the Co Down rider victory in the first Pegus LST 1.35m of the season.
Co Derry's Daniel Coyle claimed runner-up spot, finishing just over a second behind Lennon with Neill McCluskey's seven-year-old grey stallion Lougherne Built To Last, who is by Builders Delight out of a dam by White Christmas. Donegal's Kelda Morgan slotted into third with George, a 12-year-old Touchdown gelding, while Gavin Conlon from Armagh finished close behind in fourth with Ballyrath. Fermanagh native James Hogg continued the Northern domination of the competition by claiming fifth place with Always on my Mind.
Meanwhile Sven Hadley was the only rider from outside Ulster to feature in the prizes, the Galway-man finishing sixth with Quanbel.
The Pegus LST 1.35m now moves to Coilog in Co Kildare for the second round of the series this coming weekend, before moving to Barnadown in Co Wexford on May 9th.
Result – Pegus LST 1.35m – Louth County Show – Sunday 26/04/2015
1. Dermott Lennon/Vampire 0/0 30.83
2. Daniel Coyle/Lougherne Built To Last 0/0 31.90
3. Kelda Morgan/George 0/0 32.11
4. Gavin Conlon/Ballyrath 0/0 32.91
5. James Hogg/Always On My Mind 0/0 33.00
6. Sven Hadley/Quanbell 0/0 35.44
7. Yvonne Whiteside/Ecclesville 0/0 35.82
8. Conor McEneaney/Moonlite Cavalier 0/0 36.40
9. Melanie Davidson/Naughty By Nature 0/0 37.00
10. Sophie Dalm/Remake Lande 0/0 37.40
51 Starters
About Pegus Horse Feed
Pegus Horse Feed has been to the forefront of equine nutrition in Ireland for over 40 years and works with the world's leading nutritionists, giving Pegus progressive understanding of the modern equine. Pegus Horse Feed is manufactured in three of the most technically advanced mills in Europe, using carefully selected-high quality raw materials and meticulous production techniques, providing customers with the confidence that every scoop from every bag of Pegus is equine feed perfection.
Pegus Horse Feed is available through Dairygold Stores, Liffey Mills Branches, Drummond Stores,. Pegus Feed is also distributed in Northen Ireand through John Thompsons of Belfast and Independent Merchants nationwide.
Pegus Horse Feed have a dedicated Freephone Nutrition Helpline 
R.O.I 1800-378463
UK 0800-0114182