17 Apr

What a Champ! Bertram Allen at his best

​

Photo Caption: Ireland's Bertram Allen and the brilliant grey mare, Molly Malone, won the opening Speed competition of the Longines FEI World Cup™ Jumping 2015 Final at the Thomas & Mack arena in Las Vegas, USA. (FEI/Dirk Caremans)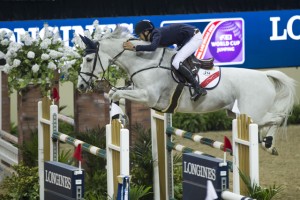 A spectacular performance from 19-year-old Bertram Allen and the grey mare Molly Malone, saw them win the first leg of the Longines FEI World Cup™ Jumping  Final in Las Vegas, USA this morning (Friday) after a blistering fast clear-round of 65.45 seconds.
Drawn number 32 to jump in the opening speed competition, Wexford born Allen shaved a second off the target time of the then joint-leaders Patrice Delaveau from France and The Netherlands' Jur Vrieling.
Veteran US rider Rich Fellers on the 19 year-old Irish Sport Horse Flexible came closest to catching Bertram Allen and lie in second place,  half-a-second behind the Irish leader.
Bertram Allen's now goes forward to Saturday morning's two-round second leg, before Sunday's third competition which could see the 19-year-old become the youngest World Cup Final winner in 30 years, and the first ever Irish rider ever to win the trophy.
ENDS
Watch Bertram Allen's winning round and interview here       https://www.youtube.com/watch?v=p8dy_v9gL-4&authuser=0
Audio as Bertram Allen speaks to Rupert Bell            https://www.lloydbell.co.uk/access/client_zone/FEI_Longines_Allen_thur.mp3