22 Mar

Rules for 2015 LEINSTER SUMMER TOUR
PEGUS HORSE FEED & LEINSTER REGION OF SHOWJUMPING
"PEGUS L.S.T (1.35)"
 PEGUS HORSE FEED AND SUPLIMENTS ARE SPONSORING THIS YEAR'S PEGUS LST (1.35)
 EACH LEG OF THE TOUR WITH BE RUN UNDER ART 238.2.2/274.5.2
 WINNING COMBINATION OF THE Pegas LST WILL RECEIVE €4000, 2ND €1500, 3RD €500.
 PRE ENTRY BY TEXT TO 0861642556 OR EMAIL BEFORE NOON ON FRIDAY PRIOR TO THE SHOW [email protected] or [email protected]
 POINTS FOR THE TOUR: 1ST 10, 2ND 8, 3RD,7, 4TH,6, 5TH 5, 6TH 4, 7TH 3, 8TH 2, 9TH 1, 10TH 1.
 TOP POINTS FROM 8 SHOWS WILL COUNT FOR EACH COMBINATION. POINTS & A HALF FOR THE FINAL LEG.
 A SENIOR COURSE DESIGNER MUST DESIGN THE COURSE & 1 SENIOR JUDGES MUST BE PART OF THE GROUND JURY.
 Prize money for each leg of Pegus LST- not less than €1000.
 Local sponsor cannot be in the same line of business as our main sponsor of the Tour
 Tour Sponsor will be present to do Presentation of Rosettes with local sponsor, winner's rug and other non-monitory products.
 LEINSTER SUMMER TOUR SHOWS
 LOUTH COUNTY – 26TH APRILLouth County Pegus LST (1.35) Startlist
COILOG –  2ND & 3RD May
Warrington (Fri) 17th 
BARNADOWN 9TH & 10TH May
Wexford (Sat) 18th July

Ravensdale 23rd & 24th May

Tattersalls 26th & 27th July
Bolivor 14th June
South County Dublin Horse Show 1st & 2nd July
Raheen na Gun 21st June
Iveck/Piltown (TBC)
Boswell 27th JuneMullingar 28th June
Irish Breeders Classic 4 -6th Sept(Final leg)
*Please note that Shows may be added to this list – Please keep a check to dates of shows in the SJI Bulletin.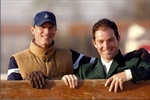 KARLSWOOD STABLES BURSARY FOR YOUNG RIDERS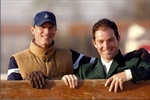 TOP YOUNG RIDERS WILL RECEIVE A BURSARY OF A WEEK'S TRAINING WITH OLYMPIAN BRONZE MEDALLIST, CIAN O'CONNOR WITH ACCOMMODATION FOR BOTH HORSE AND RIDER.
1 METRE TOUR-
 €300 TO TOP COMBINATION IN TOUR, €200 TO RUNNER UP COMBINATION.
 ADDITION PRIZES – TOP OVER 35 COMBINATIONS, UNDER 25 YOUNG RIDER COMBINATION, TOP LADY ATHLETE COMBINATION.
 ENTRIES AT SHOW.
 POINTS- 3 = 00.
 FINAL LEG WILL BE AGAINST THE CLOCK. POINTS FOR PLACINGS 1st -6th = 6,5,4,3,2,1 & bonus 00=3.
1.10/1.20 TOURS
 €500 TO TOP COMBINATIONS, €300 TO RUNNER UP COMBINATION.
 ADDITIONAL PRIZES- TOP OVER 35 COMBINATIONS, UNDER 25 YOUNR RIDERS COMBINATION, TOP LADY RIDER COMBINATION.
 POINTS- 1st – 6th 6,5,4,3,2,1.
 POINTS AND A HALF FOR THE FINAL LEG.
 Entries at show.
AMATEURS
 PRIZES IN KIND.
 PRIZE TO THE VALUE OF €500 TO TOP COMBINATION IN TOUR; RUNNER UP COMBINATION (TO THE VALUE €300)
 Additional Prizes- Top over 35 years & Top under 25 years.
 POINTS- 1ST – 6TH 6,5,4,3,2,1
 POINTS AND A HALF AT FINAL
 ENTIES AT SHOW.
AS A COURTESY TO OUR SPONSOR, ALL ATHLETES MUST BE PRESENT FOR PRIZE GIVING AT THE FINAL LEG OF THE TOUR.
LEADER BOARDS WILL BE POSTED ON NEW LEINSTER WEBSITE
NB Entries for Pegus LST (1.35) must be text to 0861642556 or email [email protected] before 12 noon on Friday (Thurs for Warrington) before show. 
All other Leagues entries at shows.
HAVE A GREAT SUMMMER
———————————-